THURSDAY, 30 APRIL 2009
CHURROS is regarded non-distinctive in Denmark for Spanish waffles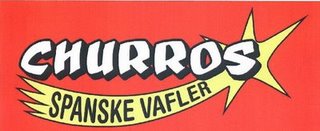 In a recent case before the Danish Maritime and Commercial Court, the term CHURROS was regarded non-distinctive for Spanish waffles. Thus, the owner (A. Møller) of the registered figurative trade mark CHURROS SPANSKE VAFLER (Danish for "Churros Spanish waffles") could not prevent a Danish discount chain (Netto – Dansk Supemarked A/S) from using this term on its packaging for waffle-like cake snacks.

Since 2005, A. Møller had been selling and marketing waffle products named CHURROS from her leased shop in The Tivoli Garden in Copenhagen and on various festivals and markets in Denmark. Based on this business, she claimed that the trade mark CHURROS had become well known.

Although the Spanish language is not understood by most Danish consumers, and although the term CHURROS does not have any meaning in Danish, the Court found that CHURROS is a generic term for a specific cake product originating from Spain in line with the generic term "croissant" originating from France. There was therefore a clear public interest in keeping it available for other traders. For this reason, Netto's use of the term CHURROS for the cake snacks in question did not constitute an infringement of the registered figurative mark.