CLASS 46

Now in its twelfth year, Class 46 is dedicated to European trade mark law and practice. This weblog is written by a team of enthusiasts who want to spread the word and share their thoughts with others.
Who we all are...
THURSDAY, 2 AUGUST 2018
Watch a trade mark mediation at the Annual Conference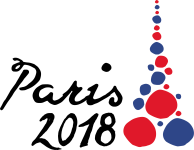 Class 46 is previewing the six workshops being held at this year's MARQUES Annual Conference in Paris. Workshop 6 will be a mock trade mark mediation
The workshop will comprise an introduction to set the scene, followed by a live mediation featuring a mediator, legal representatives and clients. All the parts will be played by MARQUES members.
During the mediation there will be pauses to explain what's happening, and after it is resolved there will be a discussion including questions from the audience.
The workshop will be chaired by Jeremy Blum of Bristows, who is a member of the Dispute Resolution Team. He says it builds on a seminar on mediation and arbitration held in London two years ago: "Lots of people have probably never seen a mediation in action. It may be quite alien to some delegates. Our aim is to provide some insight into how a mediation works in practice."
Marta Krzyskow-Szymkowicz will act as mediator, while Markus Frick and Patricia McGovern will represent the two parties.
MARQUES

Annual Conference workshops
All the workshops take place on Thursday 20 September, starting at 14:15. Find out more about them in the

MARQUES

Annual Conference programme. Registered delegates can choose one workshop to attend. Spaces are limited
The case being mediated is inspired by real experiences, and will see a luxury brand taking action against a small trader, which it alleges infringes its trade mark and design rights in Europe. The dispute will address various legal issues including the own name defence.
Jeremy says it will be interesting to watch how the parties' positions evolve during the mediation, and whether they manage to achieve their commercial goals: "Can they compromise and reach a commercial outcome and avoid going to court, while recognising their respective positions?"
Find out by signing up for workshop 6 "Mock trade mark mediation" during the Annual Conference.
Posted by: Blog Administrator @ 09.02
Tags:
Mediation
,
Annual Conference
,
Dispute Resolution Team
,
Perm-A-Link:
https://www.marques.org/blogs/class46?XID=BHA4660
MARQUES does not guarantee the accuracy of the information in this blog. The views are those of the individual contributors and do not necessarily reflect those of MARQUES. Seek professional advice before action on any information included here.
The Class 46 Archive