CLASS 46

Now in its twelfth year, Class 46 is dedicated to European trade mark law and practice. This weblog is written by a team of enthusiasts who want to spread the word and share their thoughts with others.
Who we all are...
FRIDAY, 5 JUNE 2015
Yo! Slang words can also be confused
In Case T-562/15, the General Court ("GC") found the word sign 'YOO' likely to be confused with the earlier word mark 'YO' within the meaning of Article 8(1)(b) CTMR, in respect of products relating to food and drinks.
Yoo Holdings Ltd filed the CTM application 'YOO' covering, among other things, "Restaurant services; bar services;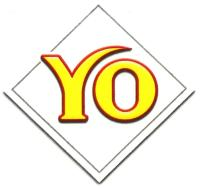 café, cafeteria, canteen, snack bar and catering services; lounge and bar services; services for providing food and drink" in Class 43. The application was opposed by Eckes-Granini Group GmbH based on the earlier German word mark 'YO' and the international registration of the same word designating the European Community, both of which claiming protection for goods including "pastry and confectionery, filled and unfilled chocolates and all other chocolate products" in Class 30 and "fruit drinks and fruit juices" in Class 32.
According to the GC, the above-mentioned goods protected by the earlier marks were complementary to the contested services in Class 43, in particular, because such goods were also used and offered in the context of restaurant, catering, bar and cafeteria services.
Visually, the marks at issue were held to be highly similar. The additional letter 'o' at the end of the mark applied for was not sufficient to counteract the similarity resulting from the complete reproduction of the earlier marks. Phonetically, the conflicting marks were also, at least, very similar.
The conceptual comparison of the signs was considered irrelevant because large parts of the relevant public would not perceive any concept behind the marks. This finding was not altered by the fact that Spanish-speaking consumers would understand the earlier marks as the personal pronoun 'yo' and that the English-speaking public might recognise in the earlier marks "an interjection which can be used to greet someone or get his attention".
The applicant tried to argue that the word 'yo' was a slang expression commonly used in English and, thus, had a less than average distinctive character. However, the Court maintained in its well-reasoned decision that even such a degree of distinctive character of the earlier marks would not preclude a likelihood of confusion.
Posted by: Christian Tenkhoff @ 15.38
Tags:
Yo
,
likelihood of confusion
,
general court
,
food
,



Sharing on Social Media? Use the link below...
Perm-A-Link:
https://www.marques.org/blogs/class46?XID=BHA4101
Reader Comments: 0
Post a Comment
MARQUES does not guarantee the accuracy of the information in this blog. The views are those of the individual contributors and do not necessarily reflect those of MARQUES. Seek professional advice before action on any information included here.
The Class 46 Archive