Sort By:
Observatory report
Published: 21 October 2016
The Economic Cost of IPR Infringement in the Pharmaceutical Industry

Internet Platforms and Social Media Sites
Published: 19 August 2016

The MARQUES ACPT Team, with the help of React, "a not-for-profit anti-counterfeit network", has compiled a guide to IP procedures on 30 of the most popular internet platforms and social media sites.
Note on the Most Recent Developments at the Observatory
Published: 1 April 2014
The European Observatory on Infringements of Intellectual Property Rights (the Observatory) was established by the European Commission in 2009. In June 2012 it was entrusted to OHIM by Regulation (EU) 386/2012.
Enforcement Database
Published: 1 November 2013
The European Observatory on Infringements of Intellectual Property Rights has launched its long-heralded enforcement database...
The paper on the Enforcement Directive overlaps with the Commission consultation exercise
Published: 11 March 2013
Directive 2004/48/EC of the European Parliament and of the Council of 29 April 2004 on the enforcement of intellectual property rights ("Directive") entered into force in 2004. Its main objective was to ensure an equivalent level of protection for intellectual property in all EU countries...
Draft Proposal for a Regulation of the European Parliament Concerning Customs Enforcement of IP rights
Published: 21 May 2012
Some of the definitions in the draft Proposal for a Regulation of the European Parliament and of the Council concerning customs enforcement of intellectual property rights are too narrow and might cause practical problems to both Customs authorities and brand owners...
ACTA: Organisations Urge Quick Approval of Trade Agreement
Published: 7 July 2011
A joint press release supported by more than 18 organizations representing companies operating throughout Europe, including MARQUES, applauds the European Commission for formally adopting the Anti-Counterfeiting Trade Agreement (ACTA) and sending it to the Council and European Parliament for final approval...
Response to Directive 2004 48 EC
Published: 28 April 2011
MARQUES Official response to the European Commission's report on the enforcement of intellectual property rights...
Notorious Markets
Published: 4 April 2011
On February 28, 2011 an Out-of-Cycle Review of Notorious Markets has been released by the Office of the United States Trade Representative with a non-exhaustive list of the main sources of diffusion of counterfeit products worldwide...
India - Court Comes Down Heavily in Piracy of Cancer Drug
Published: 8 March 2011
Trademark infringement is a violation of the exclusive rights attaching to a trademark without the authorization of the trademark owner or any licensees (provided that such authorization was within the scope of the license)...
Recent tendencies in the field of protection of intellectual property rights in Ukraine
Published: 3 March 2011
On December 9, 2010 the President of Ukraine has signed the Decree No. 1085/2010 "On Optimization of the System of Central Executive Authorities"...

Proactive role of Customs in IPR Protection in India
Published: 18 January 2011
Border enforcement of intellectual property rights has considerably changed in India after the coming into force of the Intellectual Property Rights (Imported Goods) Enforcement Rules, 2007...

Amendments to the Spanish Criminal Code
Published: 26 July 2010
Jordi Camó, Barcelona office of Grau & Angulo reports on changes to the Spanish Criminal Code which will come into force on the 23rd December 2010...

Oppositions based on unregistered marks
Published: 5 July 2010
The Turkish Trade Mark Registry frequently receives applications seeking to register well-known trade marks, celebrities' names, and trade marks owned by foreign companies that have not been registered in Turkey...

Kazakhstan Customs Amendments 2010
Published: 30 March 2010
Amendments made by Kazakh Law No. 224-IV of December 8, 2009 to the Customs Code of Kazakhstan became effective as of January 1, 2010.
Decision of the ECJ of 23 April 2009, Copad SA vs. Christian Dior couture SA, Vincent Gladel, Société industrielle lingerie (SIL)
Published: 1 December 2009
In this decision the ECJ has for the first time dealt with the effects of a license agreement on the exhaustion. It is particularly important for trademark owners distributing luxury items by means of a selective distribution system...

IPR Customs Enforcement in India
Published: 1 December 2009
Intellectual property rights enforcement strategy at border has considerably changed in India after the notification of Intellectual Property Rights (Imported Goods) Enforcement Rules, 2007 .

Turkish and EU Customs harmonised
Published: 1 November 2009
The main amendment is the simplified destruction procedure for goods that are suspected of infringing an IP right in the Turkish Customs Code. The general rules for the implementation of the facilitated destruction regulated by the new Customs Regulation came into force on 7th October...

Turkish Constitutional Court
Published: 1 August 2009
The Turkish Constitutional Court recently cancelled Article 136/1-a,b of the Turkish Patent Decree Law no: 551 and Article 48/1-a of the Turkish Industrial Design Decree Law...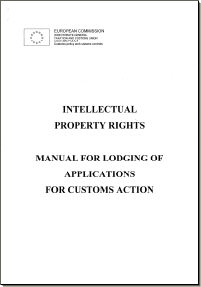 Custom Activities Relating to Counterfeit and Piracy
Published: 5 November 2008
On behalf of
MARQUES
the Chair of the Anti Counterfeiting Team, Joachim Hofmann, Syngenta Switzerland attended in Brussels on October 7, 2008 a meeting on European Commision DG TAXUB...
ACPT Criminal Sanctions
Published: 11 December 2006
MARQUES response to the amended proposal for a Directive on Criminal Measures aimed at ensuring the enforcement of intellectual property rights
Third Global Congress on Combatting Counterfeiting and Piracy
Published: 5 October 2006
The global congress has become a key internation forum for shaping practical strategies to meet the shared challenges posed by the worldwide trade in counterfeit and pirated products...
EU US Joint Strategy on IPR
Published: 30 June 2006
Industry welcomes new EU-US joint strategy to fight soaring global trade in counterfeit and pirate goods...
WIPO - Negative Impact of Counterfeiting
Published: 23 May 2006
The need to heighten awareness of the negative impact of counterfeiting and piracy and to build support for global enforcement efforts...
Counterfeiting and piracy: Commission proposes criminal law provisions to combat intellectual property offences
Published: 28 April 2006
On April 26, 2006 the Commission has adopted a proposal for a directive to combat intellectual property offences...
Combating Counterfeit Drugs: Building Effective International Collaboration
Published: 15 December 2005
16-18 February 2006 - Rome, Italy
In preparation of the 12th International Conference of Drug Regulatory Authorities (ICDRA) the World Health Organization (WHO) is organizing...
Proposals for a directive and framework decision on criminal sanctions for counterfeiting to be revised
Published: 15 December 2005
On November 28, 2005 it was announced that the Commission will withdraw and revise its proposals for a directive and a framework decision on criminal measures...
Brussels - Ukrainian Central Executive Authorities
Published: 30 June 2005
Brussels, 26 May, 2005. The Ukrainian Central Executive Authorities held a presentation organised on the initiative of the Mission of Ukraine...
Enforcement Questionnaire
Published: 26 April 2005
On the 10th of November 2004, the Commission adopted a Strategy for the Enforcement of Intellectual Property Rights (IPRs) in Third Countries. The Strategy is an action plan, aiming at reducing the level of counterfeiting and piracy issues across EU borders.
Internet Service Providers (ISP) may be responsible for preventing their clients from committing IP violations
Published: 11 January 2005
Belgian Society of Authors, Composers and Editors (SABAM) has obtained a first success against the ISP Tiscali...
ECJ Advocate General: Opinion on abuse of dominant
Published: 29 October 2004
On 28 October 2004  Advocate General Jacobs delivered his opinion in the case C-53/03. The conclusions are as follows...
MARQUES-EU China Update
Published: 25 October 2004
On September 21, 2004, Nunzia Varricchio and Eddy Sigrist (MARQUES representatives) attended a meeting in Brussels, hosted by the Directorate General for Trade, on the subject of China IPR Initiative.
New EU Directive on measures and procedures to ensure the enforcement of intellectual property rights
Published: 14 May 2004
The aim of the Directive is to define minimum standards for the laws of the member states as far as they relate to the enforcement of IPR. On April 26, 2004 the European Council...
New EU Customs Regulation to Seize Counterfeit Goods
Published: 14 May 2004
On July 1, 2004 a new Customs Regulation to facilitate seizures of counterfeit and pirate goods from outside the EU will enter into force.