WEDNESDAY, 20 JANUARY 2010
US's "de facto design registration system"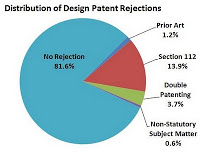 Dennis Crouch -- author of the iconic Patently-O US patent law weblog -- has written to Class 99 as follows:
"

[Words of generous flattery deleted for the sake of modesty].

You might be interested in a recent post of mine that looks at design patent prosecution. I come to the conclusion that the US is operating a de facto registration system (although expensive and somewhat slow)".
Having sifted through the file histories of 1,049 design patent issuances, he concludes:
"It is typically easier and cheaper to prosecute a design patent to issuance than to register a product design as trade dress. To be clear, I support the idea of a design patent registration system".
More research is promised. Thanks, Dennis!