THURSDAY, 7 DECEMBER 2017
Design filings worldwide grow by 10 per cent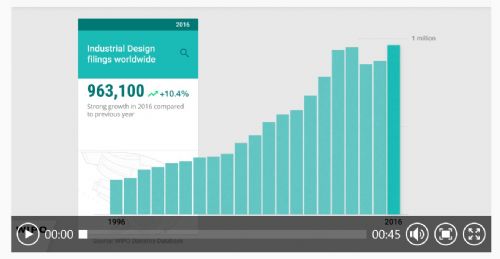 An estimated 963,100 industrial design applications, containing 1.2 million designs, were filed in 2016, according to figures published in WIPO's annual World Intellectual Property Indicators survey on 6 December.
This represents growth of 10.4% in the number of designs, and 8.3% in the number of design counts (the total number of designs contained in industrial design applications).
China accounted for 52% of the world total, with applications containing 650,344 designs in 2016. The next biggest offices were:
EUIPO: 104,522
KIPO: 69,120
Germany: 56,188
Turkey: 6,305
Offices that saw notable growth included Iran (34.8%), Ukraine (17.4%), China (14.3%) and the United States (12.1%).
The WIPO report further states:
A high proportion of designs in applications filed by applicants based in Switzerland (84.2%), Sweden (66.8%) and the US (55.8%) were destined for protection abroad, while applicants from China, India and the Islamic Republic of Iran mostly sought protection within their respective domestic markets.
Designs related to furnishings accounted for 10.8% of all filings, followed by those related to clothing (8.6%) and to packages and containers (7.3%).
The total number of industrial designs in force worldwide grew by 6% to reach 3.6 million. Around 1.36 million were in force in China, followed by the Republic of Korea (338,234), the US (307,018), Japan (250,819) and the EUIPO (194,781).
Download the full report here.
Charts on design trends are available here.
View a video of the press conference on YouTube here.