SUNDAY, 25 SEPTEMBER 2016
Hague Yearly Review now available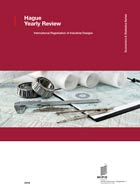 Our friends in the World Intellectual Property Organization (WIPO) have announced the availabiity of the latest Hague Yearly Review -- International Registration of Industrial Designs. To access it, all you have to do is click here.
The Review is just 58 pages long and is very handsomely produced. It makes ideal reading for anyone who is involved in the nuts and bolts of international design registration ...