THURSDAY, 17 DECEMBER 2015
Eight dates to note: Hague closures in 2016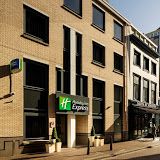 Here is a reminder that our friends at the Hague Agreement's International Bureau of the World Intellectual Property Organization (WIPO) will be taking a number of well-earned breaks next year from their hard work on account of public holidays. These days off are holidays under Rule 26(2) of the Common Regulations under the 1999 Act and the 1960 Act of the Hague Agreement.
Illustration, right: The Hague Holiday Inn
NEW YEAR Friday, January 1, 2016
EASTER Friday, March 25, 2016; Monday, March 28, 2016
ASCENSION Thursday, May 5, 2016
WHITSUN Monday, May 16, 2016
JEÛNE GENEVOIS Thursday, September 8, 2016
CHRISTMAS Monday, December 26, 2016
NEW YEAR Friday, December 30, 2016
Please mark your diaries accordingly.