WEDNESDAY, 21 OCTOBER 2015
WIPO's Hague Seminar: less than a month away!

MARQUES's friends in the World Intellectual Property Organization (WIPO) are busily organizing a Seminar: the title? "The Hague System for the International Registration of Industrial Designs: Practical Approach and How to Use It". If this alone doesn't excite you into wanting to participate, bear in mind the fact that registration is free of charge if you work for a National Office of one of the countries that belong to the Hague Union (check this list out here if you're not sure -- though you should be!) and a moderate (by today's standards) fee of just 300 Swiss francs if you are a regular participant.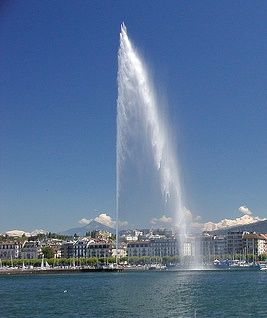 By strange coincidence, both The Hague -- which gave its name to the Union of cooperating countries after which the Hague System is named -- and Geneva, which hosts this event, are noted for, among other things, their elegant and iconic fountains. We depict them both here for your interest and edification.
The seminar will take place at WIPO's headquarters, in Geneva, on 19 November 2015 and will be conducted in English. The objectives of the Seminar are
to give practical guidance to users, whether in industry or in private practice, when designating among other jurisdictions, the United States of America, Japan or the Republic of Korea in an international design application.
to offer the viewpoint of a private practitioner regarding a possible filing strategy.
Further details of the programme and registration are available here.