FRIDAY, 2 OCTOBER 2009
"Design for the disabled"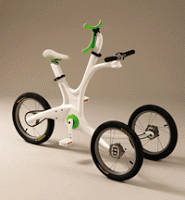 "Design for the Disabled" is the title of a feature in the current issue of the attractive and informative WIPO Magazine. This upbeat article extols the virtues of safety products, therapeutic toys and other items and concludes:
"The good news is that considering the needs of the disabled will ultimately lead to designs that are safer, more flexible and more attractive for all consumers. We are hopefully working towards a world where design solutions are found for people of all degrees of ability".
Sadly, considering that this is a publication from the international agency charged with the protection of the rights of creators and with encouraging innovative activity, there is no glimmer of any "design solution" for those unfortunates who either cannot protect their designs or are unable to enforce the rights they do possess, on account of the expense and difficulty of litigating them.




No-one would seriously disagree with the need for the sort of products discussed in this article, but the market for goods designed for special needs -- particularly among the swelling ranks of the aged and the infirm -- grows increasingly valuable and the activities of manufacturers and distributors are not solely motivated by the promptings of their social consciences.