TUESDAY, 22 JANUARY 2013
"Cumulation" of copyright and designs in Spain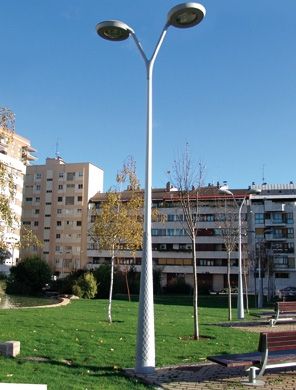 The Spanish Supreme Court appears to have tackled the thorny question of the interpretation of the "cumulation" requirements of EU Design Directive 98/71 and Community Design Regulation 6/2002, which has been on European minds since the CJEU Flos decision (Case C‑168/09 Flos SpA v Semeraro Casa e Famiglia SpA).
Industrias de Iluminacion Roura v CM Salvi, Decision STS 6196/2012 of 27 September 2012, concerned copyright and breach of contract in the designs of Roura's YSP lamp posts, depicted. The decorative base of these minimalist posts is registered in 2002 as Spanish national design I0154097.
The above link will take you to the Spanish-language decision, and I hope some enthusiastic reader will tell us what it means, as it is too long for Google Translate. However, in the meantime, thanks to David Pellisť, of Pellisť Abogados, who has produced an English-language summary in AIPPI's excellent newsletter, here. According to David, the Court held that to benefit from copyright protection, you must meet all the design protection requirements and in addition, have "additional creativity" or "some degree of artistic distinctiveness".
By way of background, we note that Roura also attacked Salvi's RCD in a recent OHIM invalidation action here.