FRIDAY, 22 OCTOBER 2010
Flavour of the month: this time it's Spain
This month's Alicante News focuses on Community design registrations in Spain, where

"With just over 31,000 registrations since 2003, the registered Community design is popular with Spanish undertakings. Last year there were more than 4,000 RCD filings with classes 6, 2 and 25 in highest demand.
The majority of Spanish filers prefer the online route, with over 84% now using e-filing and the remaining applications mostly coming by mail (12%)".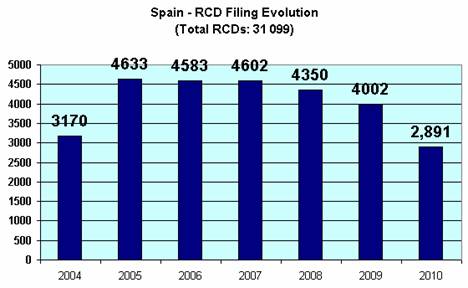 The Top 10 Spain-based owners by number of RCDs filed are as follows (followed by numbers of design registrations):

PIKOLINO'S INTERCONTINENTAL, S.A. 621
FESTINA LOTUS, S.A. 571
UNIVERMOBLE, S.A. 550
EMBOGA, S.A. 548
CAMPER, S.L. 403
ROCA SANITARIO, S.A. 352
UNIVERSAL DE DESARROLLOS ELECTRÓNICOS S.A. 342
LEDS-C4, S.A. 321
METRONIA, S.A. 320
BAÑO Y DISEÑO, S.L. 308