TUESDAY, 21 NOVEMBER 2017
Intangibles account for one-third of value of manufactured goods – WIPO study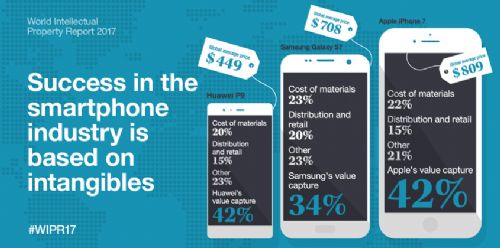 Image: WIPO
Intangible capital – such as branding, design and technology – contributes twice as much as buildings, machinery and other forms of tangible capital to the total value of manufactured products, according to new research by WIPO.
The World Intellectual Property Report 2017: Intangible Capital in Global Value Chains, found that intangible capital accounted for 30.4% of the total value of manufactured goods sold from 2000 to 2014. Income from intangibles increased by 75% in that period, amounting to US$5.9 trillion in 2014.
The Report includes case studies on coffee, solar panels and smartphones. For example, it found that for every iPhone 7 that Apple sells for approximately US$810, about 42% of the sales price is captured by Apple. The figures for Samsung and Huawei are similar (see picture).
Read more about the Report on WIPO's website:
Three-minute video with WIPO Director General Francis Gurry (YouTube)