THURSDAY, 25 AUGUST 2016
WIPO Magazine: your chance to say what you think!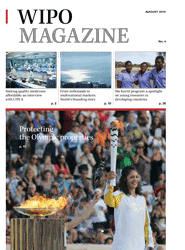 Our friends at the World Intellectual Property Organization (WIPO) have compiled a survey for readers of the WIPO Magazine. The purpose of this exercise is to enable WIPO to better understand readers' interests and reading habits so that they can deliver the content readers want to read, in the formats they prefer.
Officially the survey should take about five minutes to complete, but we reckon that our readers can do it in less time than that. You can access the survey by clicking here.
The survey will close on 9 September 2016 -- but why wait till then, when you can do it now?