THURSDAY, 12 MAY 2016
At last -- an app for all your CJEU needs!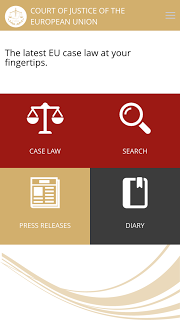 Readers of the popular IPKat weblog will already have seen the announcement that the Court of Justice of the European Union (CJEU) has launched its own app. IPKat blogger Alberto Bellan explains all about this exciting development in an agreeably entertaining manner. The basic information is that the CJEU's mobile app enables IP owners and their representatives to stay up-to-date with the court's work. The app provides easy access to the latest decisions of the Court of Justice, not to mention the General Court and the Civil Service Tribunal. Everything is there: judgments, Opinions, orders and press releases, as well as the Curia diary.
One thing the app doesn't do is make the CJEU's more complex trade mark rulings easier to understand. We live in hope!