TUESDAY, 22 MARCH 2016
Greece: 19.000 counterfeit items seized in Athens warehouse raid


The Greek Police has reported (in Greek) that, in the context of a raid at the premises (warehouse) of a transport company in Votanikos, Athens, some 19.000 counterfeit items were seized. The items were mainly apparael, footwear and accessories.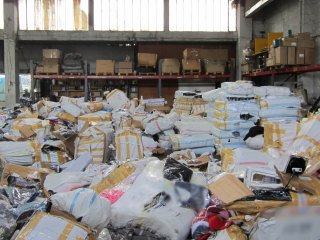 According to the count published, 2.918 pairs of sports shoes, 11.517 blouses, 1.845 women's bags, 733 shirts, 531 trousers, 1.444 pcs of underwear and 100 caps were seized and destroyed on the spot - immediate destruction is allowed under Greek law.
The items were reportedly loaded and ready to go, when the raid took place. 1 person was arrested and charged with forgery (a useful anti-counterfeiting tool in Greece), market regulation violation, as well as trade mark and unfair competition criminal offenses.
Police authorities also published a video of the premises, including the destruction process.
*On this dark day, our thoughts are with the people in Belgium.