THURSDAY, 11 FEBRUARY 2016
Observatory publishes fresh updates on counterfeit bags, cases, jewellery and watches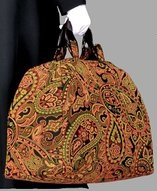 Our friends in the European Observatory on Infringements of intellectual property rights, accommodated by the Office for Harmonisation in the Internal Market (OHIM), have been busy again, The result of this is the launch this morning of the fifth and sixth sectorial reports on the economic cost of IPR infringement, covering (i) handbags and luggage and (ii) jewellery and watches.
Right: Mary Poppins' bag. the design is iconic, but that doesn't mean the product is genuine ...
We are reliably informed as follows:
In line with its mandate, the Observatory is continuing to evaluate the negative impact of counterfeiting and its consequences for legitimate businesses, governments and consumers, and ultimately society as a whole. Results of these fifth and sixth studies, to be followed by some other sectorial studies, pave the way towards quantification of the scope, scale and impact of IPR infringements in the European Union.
With a little bit of luck, a decent supply of electricity and an obliging internet browser, you should be able to read these two important and current studies right now, by clicking the Observatory website here.