THURSDAY, 13 SEPTEMBER 2012
Paul Maier appointed as first Director of EU Observatory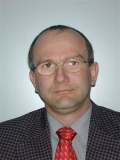 The appointment of Paul Maier, currently President of OHIM's Boards of Appeal, as the first Director of the EU Observatory on the Infringement of Intellectual Property Rights was announced by OHIM this afternoon. This appointment commences in January 2013.

Paul brings to his new role a wealth of experience within the field of intellectual property. Class 46 wishes him well in his new task and looks forward to seeing it bear fruit.