WEDNESDAY, 24 MARCH 2010
WIPO UDRP cases down 9.5% in 2009; number of domain names concerned at an all time high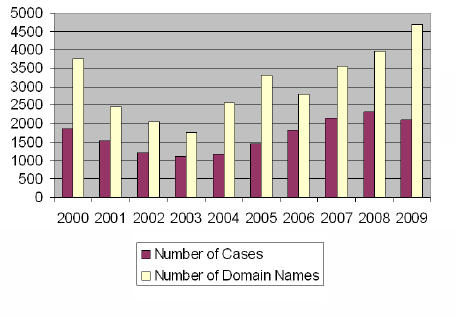 Experts from WIPO's Arbitration and Mediation Center have decided roughly 2,100 cases brought under ICANN's UDRP in 2009, which is about 9.5% less than 2008. The number of concerned domain names, however, is at an all time high. This is due to a single complaint, though, that concerned no less than 1,500 domain names - Class46 called this "the mother of all UDRP complaints". Without this complaint, the number of concerned domain names would have been 3,146 instead of 4,688, which is less than the 3,968 domain names concerned in 2008.
What remains unclear from the statistics is how much of the drop is attributable to the economic downturn, less cybersquatting, or increased competition in UDRP dispute resolution services, namey by the Czech CAC, which offers gTLD dispute resolution services since January 2009. The competition by CAC does not appear to be a main reason so far; while I can't find any statistics on CAC's website, the search only lists 14 UDRP cases for 2009.
Lots more numbers and graphs on WIPO's website.