WEDNESDAY, 2 DECEMBER 2009
Switzerland: not discriminating against MINARETT trade marks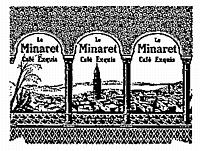 Switzerland is currently getting some heat for its decision - approved by 57% of the population - to ban the building of new minarets (a ban that may violate international law). This Class46 member is glad to report, however, that Switzerland is not discriminating against MINARETT trade marks: the Swiss trade mark MINARETT, registered for coffee, and owned by REWE Beteiligungs Holding AG (CH 349 562), is still alive and kicking (I couldn't find any evidence for use online, but really, the use of this mark in Switzerland is perfectly legal!).
In this regard, Switzerland is even more tolerant than the European Union, because the only CTM application with the term MINARET, for cleaning products and candles, has been withdrawn (CTM 003548831).
WIPO, being the international organization that it is, beats both the EU and Switzerland with the registration IR 359 342 (depicted above left), also registered for coffee and owned by CM Logistique Sud Est. But wait - this trade mark enjoys protection in Switzerland. That makes two minaret marks, and four actual minarets, in Switzerland. Hope the SVP - the right-wing party behind the anti-minaret referendum - doesn't find out about this.