CLASS 99

The blog for design law, in Europe and worldwide. This weblog is written by a team of design experts and fans. To contribute, or join us, or for any other reason, email class99@marques.org.
Who we all are...
MONDAY, 9 MAY 2022
AI and copyright webinar – new date!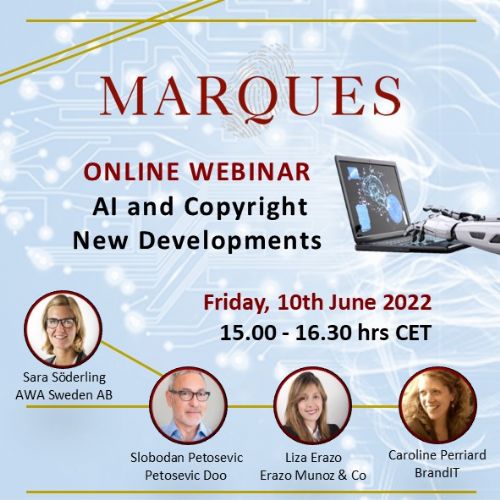 The next MARQUES webinar will explore artificial intelligence and copyright issues. It will now take place on Friday 10 June from 15.00 to 16.30 CET.
The webinar will provide an overview of how AI is regulated in Europe, citing relevant case law in the copyright field, and will provide an overview of legislative initiatives.
The speakers will also discuss how these issues are dealt with in the United States and discuss whether the work-made-for-hire doctrine is a possible solution for AI-created works. They will address the need for a new legislative framework for works created by robots.
The webinar will conclude with an interactive discussion on whether copyright should protect AIs as authors.
Registration is €100 (MARQUES members) or €135 (non-members). Participants can receive a certificate of attendance after the event. Find out more and register here.
The webinar is organised by the MARQUES Copyright Team and the speakers are:
Sara Söderling, AWA Sweden AB
Slobodan Petosevic, Petosevic Doo
Liza Erazo, Erazo Munoz & Co
Caroline Perriard, BrandIT
Posted by: Blog Administrator @ 17.31
Tags:
copyright
,
AI
,
cyberspace
,
Perm-A-Link:
https://www.marques.org/blogs/class99?XID=BHA949
MARQUES does not guarantee the accuracy of the information in this blog. The views are those of the individual contributors and do not necessarily reflect those of MARQUES. Seek professional advice before action on any information included here.
The Class 99 Archive