CLASS 99

The blog for design law, in Europe and worldwide. This weblog is written by a team of design experts and fans. To contribute, or join us, or for any other reason, email class99@marques.org.
Who we all are...
TUESDAY, 22 MARCH 2022
Study on AI, copyright and designs published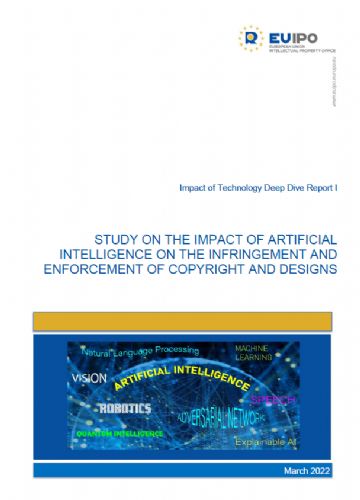 The EUIPO Observatory has published a report on the impact of artificial intelligence technologies on infringement and enforcement of copyright and designs.
The report can be downloaded here in English. The Executive Summary is also available to download in all EU languages.
The report has been compiled with the help of the Impact of technology Expert Group, which was established in early 2019. It is based on a desk review study, interviews and focus group discussions and case analysis.
The group developed a methodology called the Intellectual Property Tech Chain, which was described in its first report, published in September 2020.
Key findings
The report considers the use of AI technologies and tools in copyright and design infringement and enforcement in 20 scenarios. These 20 scenarios are grouped into two storylines – physical products and digital content.
The first storyline includes scenarios such as: theft of copyrightable work or design under development; mass production of copyright and design-infringing goods; physical market sale of copyright and design-infringing products; trade dress infringement; and online marketing of copyright and design-infringing products
The second storyline includes: hacking media accounts; social media offences; media-sharing platform offences; P2P and BitTorrent-like applications; livestreaming; and training an AI application.
The results are summarised as Opportunities, Drivers, Risks/Limitations and Concerns. The report concludes:
great investment is flowing into AI research and development along with machine learning technologies, and this trend is predicted to continue over the next years. Therefore, the availability and use of these tools and technologies, for both legal and illegal purposes, can be expected to increase. A wide range of AI-related tools and technologies are currently or potentially in use in copyright and design infringement and enforcement. There is clearly a need for better understanding, increased awareness and enhanced capacities on the part of all stakeholders, including policymakers, IP protection entities, companies and law enforcement authorities.
MARQUES resources
MARQUES resources on issues related to artificial intelligence include the latest episode of the Talking MARQUES podcast which looks at trade marks and liability issues. It can be found here.
Anyone particularly interested in AI and copyright should note that the Copyright and Cyberspace Teams are hosting a webinar on "AI and Copyright – New Developments" on 12 May 2022. More details will be available soon on the events page.
Illustration shows the cover of the report
Posted by: Blog Administrator @ 17.39
Tags:
AI
,
EUIPO
,
IP Tech Chain
,
copyright
,
Perm-A-Link:
https://www.marques.org/blogs/class99?XID=BHA945
MARQUES does not guarantee the accuracy of the information in this blog. The views are those of the individual contributors and do not necessarily reflect those of MARQUES. Seek professional advice before action on any information included here.
The Class 99 Archive