CLASS 99

The blog for design law, in Europe and worldwide. This weblog is written by a team of design experts and fans. To contribute, or join us, or for any other reason, email class99@marques.org.
Who we all are...
WEDNESDAY, 8 SEPTEMBER 2021
WIPO publishes survey on digital copyright disputes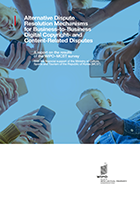 More than 60% of respondents to a survey conducted by WIPO's Arbitration and Mediation Center had been involved in B2B digital copyright- and content-related disputes in the past five years.
The most common types of disputes were software, musical works, advertising and literary works.
More details about the survey on the use of ADR mechanisms can be found here. It was supported by the Ministry of Culture, Sports and Tourism of the Republic of Korea.
The survey targeted copyright- and content-intensive companies, online intermediaries and platforms, creators, entrepreneurs, collective management organisations, in-house and external counsel and government bodies.
Top priorities
It found that the top priorities of respondents were the cost and speed of resolving disputes. Damages was pursued in 70% of disputes, and claims for royalties in 60%.
The majority (59%) of disputes that respondents were involved in fell into the bracket of $10,000 to $100,000. Settlement was the most common outcome.
The WIPO Center has noticed the growing use of ADR for digital copyright and content disputes in the past five years. WIPO ADR cases are predominantly based on contract clauses but increasingly arise from submission agreements concluded after the dispute has arisen. The Center is tailoring its ADR procedures to the specific needs of users, rights holders and content-sharing service providers.
Marco M Alemán, Assistant Director General, IP and Innovation Ecosystems Sector said: "Individuals and businesses need access to effective dispute resolution to ensure they are fairly rewarded for their works. Court litigation is not always suited to copyright- and content-related disputes, shifting attention to the benefits of alternative dispute resolution mechanisms."
Picture of cover of report from WIPO website
Posted by: Blog Administrator @ 09.50
Tags:
WIPO
,
ADR
,
copyright
,
Perm-A-Link:
https://www.marques.org/blogs/class99?XID=BHA927
MARQUES does not guarantee the accuracy of the information in this blog. The views are those of the individual contributors and do not necessarily reflect those of MARQUES. Seek professional advice before action on any information included here.
The Class 99 Archive