CLASS 99

The blog for design law, in Europe and worldwide. This weblog is written by a team of design experts and fans. To contribute, or join us, or for any other reason, email class99@marques.org.
Who we all are...
THURSDAY, 18 MARCH 2021
Design developments at WIPO
WIPO has published data on the Hague System in 2020, and launched new interfaces for the Hague System website.
2020 in numbers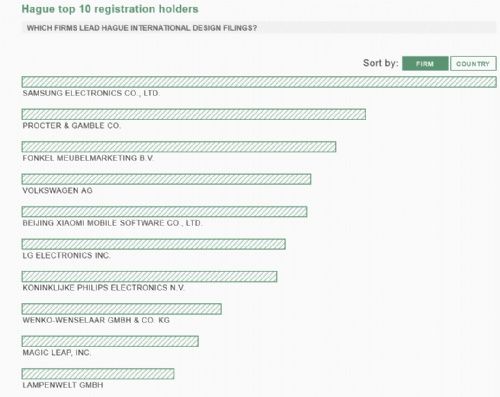 Demand for international designs fell by 15% to 18,580 in 2020, the first decline since 2006.
Germany was the largest user of the system, with 3,666 designs, followed by the US with 2,211 and Switzerland with 1,944. The US recorded the biggest growth in the year (62.7%).
For the fourth year in a row, Samsung Electronics was the top-ranked filer, with 859 published applications. Procter & Gamble was second (623) followed by Fonkel Meubelmarketing (516).
Designs related to transport accounted for the largest share of the total (10.1%) followed by recording and communication equipment (8.8%) and packages and containers (8.4%).
It was notable that designs for pharmaceutical and cosmetic products grew by 42.6% in 2020.
You can read WIPO's announcement on patent, trade mark, design and UDRP trends in 2020 on its website here.
Hague System website
WIPO has launched a set of new web interfaces providing information on the Hague System and the filing, renewal, management and search procedures. These include:
Enhanced Hague System home page, including updated Resources section
How the Hague System works
Filing applications and renewing registrations
Managing registrations
Searching protected designs
WIPO says further content will be added during the year.
Find out more about the new interfaces on WIPO's website here.
Posted by: Blog Administrator @ 14.30
Tags:
Hague System
,
Samsung
,
data
,
Perm-A-Link:
https://www.marques.org/blogs/class99?XID=BHA918
MARQUES does not guarantee the accuracy of the information in this blog. The views are those of the individual contributors and do not necessarily reflect those of MARQUES. Seek professional advice before action on any information included here.
The Class 99 Archive