CLASS 99

The blog for design law, in Europe and worldwide. This weblog is written by a team of design experts and fans. To contribute, or join us, or for any other reason, email class99@marques.org.
Who we all are...
TUESDAY, 8 OCTOBER 2019
Hague System Seminar and Trade Secrets Symposium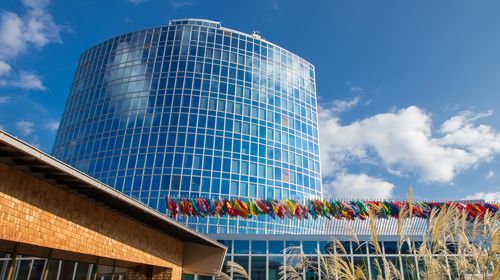 WIPO Headquarters
Class 99 readers may be interested in the seminar on "The Hague System: Insights into Refusals and New Developments, Opportunities" taking place at WIPO Headquarters in Geneva on 29 October 2019.
According to WIPO:
The Seminar will focus on national procedures for international registrations of certain major examining jurisdictions, such as Canada, Japan, the Republic of Korea, the Russian Federation and the United States of America. There will be a roundtable on such procedures, in particular, on the issuance of refusals to international registrations by the concerned Offices in these examining jurisdictions. In addition, an update will be provided on the recent practical developments of the Hague System – the ongoing modernization and improvement of e-tools, including a detailed introduction to the new features of eHague, the Hague System's electronic application filing tool.
Finally, a Practitioner in the field of industrial design will share practical experiences and views on successful filing strategies as well as the advantages of the Hague System for SMEs and multinationals. You will have the opportunity to interact with Hague Registry experts and invited speakers, seek advice and share opinions, experiences and ideas.
Registration costs Sfr300 and you can register online for the seminar up until 6pm on 22 October. More details about the seminar, including general information and a provisional programme, are available here.
Trade Secrets Symposium
WIPO is also hosting a Symposium on Trade Secrets and Innovation in Geneva on 25 and 26 November 2019. The Symposium will be open to the public. WIPO states:
The Symposium will address issues relating to interface between trade secrets and innovation, covering the wide range of aspects on policy, law, economics and business. It also explores new challenges and opportunities for both technological and service innovation sectors, and potential impacts of emerging technologies on the integration of trade secrets in the modern innovation ecosystem.
Find out more, including a draft programme, here. There will be simultaneous translation in English, French and Spanish. You can register for the Symposium here.
Posted by: Blog Administrator @ 09.01
Tags:
WIPO
,
Hague System
,
trade secrets
,
Perm-A-Link:
https://www.marques.org/blogs/class99?XID=BHA879
MARQUES does not guarantee the accuracy of the information in this blog. The views are those of the individual contributors and do not necessarily reflect those of MARQUES. Seek professional advice before action on any information included here.
The Class 99 Archive