CLASS 99

The blog for design law, in Europe and worldwide. This weblog is written by a team of design experts and fans. To contribute, or join us, or for any other reason, email class99@marques.org.
Who we all are...
MONDAY, 17 JUNE 2019
Mastering the Hague Agreement in Milan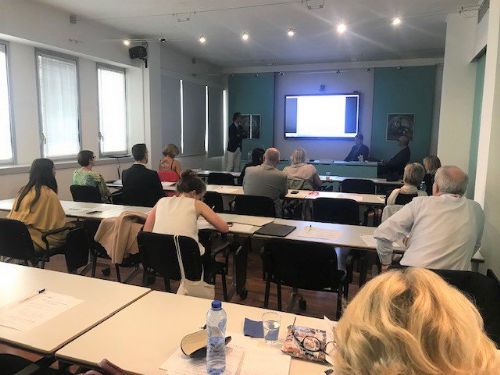 MARQUES held the latest of its events on the Hague System in Milan on 6 June. The seminar was organised in association with WIPO and hosted by Bugnion SpA and Studio Torta SpA.
Like similar seminars held in other cities, the Milan event focused on practical issues with the Hague System, in particular the challenges encountered in new members that have substantive examination.
Gregoire Bisson, Director, The Hague Registry, Brands and Design Sector, WIPO discussed the experiences gained after the recent accessions of South Korea, Japan and the USA. He also highlighted the growing interest in the Hague System among Italian users: Italy has risen to become the number 4 country for international design registrations.
In the second part of the seminar, Ing. Fabio D'Angelo, Italian and European Patent and Design Attorney and Partner of Studio Torta, compared international design protection with the registered Community design system. He also presented a hypothetical case study on protecting the shape of a shampoo bottle.
"This was a very interesting exercise, and provoked some stimulating questions about drawings, dotted lines etc," said Cristina Rolando, a Partner of Studio Torta. "It showed how you need to choose the most appropriate design system depending on what you want to protect."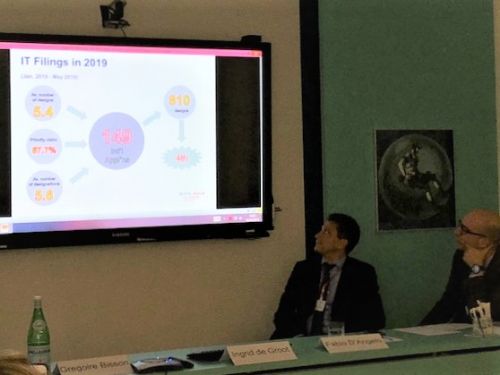 About 15 people took part in the seminar, most of them IP practitioners who regularly handle design right applications. "The number of participants made for a very interactive workshop, with lots of questions and discussion," said Simone Verducci Galletti of Bugnion SpA.
The seminar lasted about three hours, including networking drinks after the presentations and discussion. Those attending were able to obtain two professional credit points, thanks to accreditation by the Italian Ordine dei Consulenti in Proprietà Industriale.
"We had very good feedback from the audience. In particular, some users said the seminar helped them to understand the potential problems that can arise in different jurisdictions and the tools that are available to solve those problems," said Simone.
Attendees also took away others lessons, added Cristina: "It showed the importance of harmonising procedural requirements in the future. As we know from the trade mark field, such harmonisation is very important in making the system more predictable for users."
Find out more about future MARQUES events here.
Posted by: Blog Administrator @ 15.30
Tags:
Hague Agreement
,
WIPO
,
Gregoire Bisson
,
Milan
,
Perm-A-Link:
https://www.marques.org/blogs/class99?XID=BHA874
MARQUES does not guarantee the accuracy of the information in this blog. The views are those of the individual contributors and do not necessarily reflect those of MARQUES. Seek professional advice before action on any information included here.
The Class 99 Archive