CLASS 99

The blog for design law, in Europe and worldwide. This weblog is written by a team of design experts and fans. To contribute, or join us, or for any other reason, email class99@marques.org.
Who we all are...
WEDNESDAY, 20 JANUARY 2010
US's "de facto design registration system"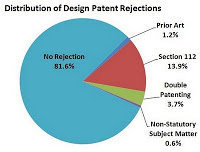 Dennis Crouch -- author of the iconic Patently-O US patent law weblog -- has written to Class 99 as follows:
"

[Words of generous flattery deleted for the sake of modesty].

You might be interested in a recent post of mine that looks at design patent prosecution. I come to the conclusion that the US is operating a de facto registration system (although expensive and somewhat slow)".
Having sifted through the file histories of 1,049 design patent issuances, he concludes:
"It is typically easier and cheaper to prosecute a design patent to issuance than to register a product design as trade dress. To be clear, I support the idea of a design patent registration system".
More research is promised. Thanks, Dennis! Posted by: Blog Administrator @ 06.40
Tags:
United States. de facto registration system
,
Perm-A-Link:
https://www.marques.org/blogs/class99?XID=BHA86
MARQUES does not guarantee the accuracy of the information in this blog. The views are those of the individual contributors and do not necessarily reflect those of MARQUES. Seek professional advice before action on any information included here.
The Class 99 Archive