CLASS 99

The blog for design law, in Europe and worldwide. This weblog is written by a team of design experts and fans. To contribute, or join us, or for any other reason, email class99@marques.org.
Who we all are...
THURSDAY, 10 DECEMBER 2015
An autonomous test for functional exclusions? Here's a new article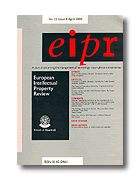 "Designs determined by the product's technical function: arguments for an autonomous test" is the title of an article that has just been published in the January 2016 issue of the European Intellectual Property Review at pages 23 to 30. The author is a Polish academic, Dr Lavinia Brancusi. According to the abstract:
The article concentrates on the interpretation and the scope of the functional exclusion set out in mart.8(1) of the Regulation on Community Designs. It analyses criteria to be applied at different stages of assessing design features solely dictated by the product's technical function. The author suggests adopting an approach independent from that developed in trade mark practice.
Readers may find this article of some interest, since it reviews (among other things) a considerable number of legal decisions.
Posted by: Blog Administrator @ 22.31
Tags:
technical function
,
exclusions
,
autonomous tests
,
Perm-A-Link:
https://www.marques.org/blogs/class99?XID=BHA708
MARQUES does not guarantee the accuracy of the information in this blog. The views are those of the individual contributors and do not necessarily reflect those of MARQUES. Seek professional advice before action on any information included here.
The Class 99 Archive