CLASS 99

The blog for design law, in Europe and worldwide. This weblog is written by a team of design experts and fans. To contribute, or join us, or for any other reason, email class99@marques.org.
Who we all are...
FRIDAY, 8 FEBRUARY 2013
Unfaer-oe competition? Islanders make a Killing as Danish court tells infringers to get knitted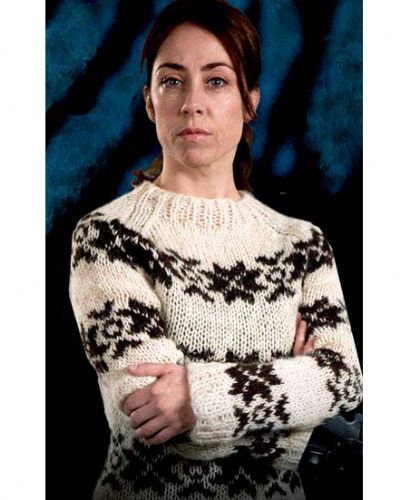 No, this isn't just an excuse to post a picture of Sarah Lund. According to
an article
in the Guardian, "that sweater" (left) was designed and hand-knitted by Faeroe Island designers
Gudrun & Gudrun
, who have succeeded against competitors
Stof og Sy
("fabric and sewing") in Copenhagen. The infringers sold patterns and wool rather than complete jerseys.
Apparently,
(a) the design was inspired by traditional Faeroe Island patterns, but
(b) fitted to Ms Lund, and
(c) hand knitted on the Faeroes.
The Guardian says it was a copyright infringement case (but newspapers do get these things wrong). What would the outcome have been in the UK? No doubt that the result as shown is aesthetically appealing, but is it the jersey, or "the package" (as Walton J put it in
Merlet v Mothercare
in the UK)? Particular hand-knitted jerseys were found to be "works of artistic craftsmanship" in New Zealand (
Bonz v Cooke
), but the traditional nature of the pattern in this case perhaps calls into question the level of artistry. So, does the sweater merit life-plus-70 years of protection? What do readers think? Comments (particularly from Scandinavian readers) welcome.
On the general subject of knitwear as infringement, it seems that the BBC amicably settled their notorious 2008 claim against knitter
Mazzmatazz
over her knitwear Dalek. Once more, ADR knits up the ravelled sleeve of care. Indeed, their
US site
now has a
knitting circle page
featuring all manner of Whovian knitwear.
And on the general subject of Scandinavia, Class 99-er David Stone will be joining others at a seminar entitled "10 years – experience of Community Design law", run by the Danish Association of Intellectual Property Attorneys ("ADIPA") in Copenhagen on 12 April. The flyer is
here
, and
ADIPA
want your money as soon as possible. Since
OHIM's own 10 year celebration
is on 8-9 April in Alicante, you may wish to keep that week clear and check the flight times well in advance.
Posted by: David Musker @ 14.27
Tags:
artistic craftsmanship
,
BBC
,
clothing
,
community design
,
copyright
,
Dalek
,
Denmark
,
Faeroes
,
fashion design
,
jersey
,
knitted
,
seminar
,
The Killing
,
Perm-A-Link:
https://www.marques.org/blogs/class99?XID=BHA434
MARQUES does not guarantee the accuracy of the information in this blog. The views are those of the individual contributors and do not necessarily reflect those of MARQUES. Seek professional advice before action on any information included here.
The Class 99 Archive