CLASS 99

The blog for design law, in Europe and worldwide. This weblog is written by a team of design experts and fans. To contribute, or join us, or for any other reason, email class99@marques.org.
Who we all are...
THURSDAY, 21 APRIL 2011
Harvesting designs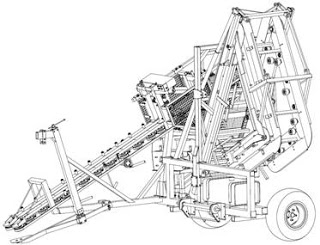 This month's
Alicante
News reports a decision of the Invalidity Division relating to a combined harvester (shown left). The registration (
1603382-0001
) was declared invalid (
ICD

7081
) because "every essential feature of the design has been chosen with a view to achieving the best possible technical performance. Those features were therefore solely dictated by the product's technical function (Article 8(1)
CDR
)".
This
decision
follows a trend at
OHIM
on this point - the Board of Appeal this time last year issued a lengthy decision (
R211/2008-3
) discussing this point, and the purpose of the provision. For those fans of old-old UK design law, this
discussion
includes mention of
Amp v

Utilux
.
In this author's view this is a worrying direction for
OHIM
to take - how can
advisors
consider what was in the mind of the designer? what are the essential features of the design? are these
all
chosen for technical performance? Posted by: Robert Watson @ 12.26
Tags:
Invalidity
,
technical function
,
Perm-A-Link:
https://www.marques.org/blogs/class99?XID=BHA226
MARQUES does not guarantee the accuracy of the information in this blog. The views are those of the individual contributors and do not necessarily reflect those of MARQUES. Seek professional advice before action on any information included here.
The Class 99 Archive