CLASS 99

The blog for design law, in Europe and worldwide. This weblog is written by a team of design experts and fans. To contribute, or join us, or for any other reason, email class99@marques.org.
Who we all are...
TUESDAY, 19 OCTOBER 2021
DesignEuropa Awards 2021 winners announced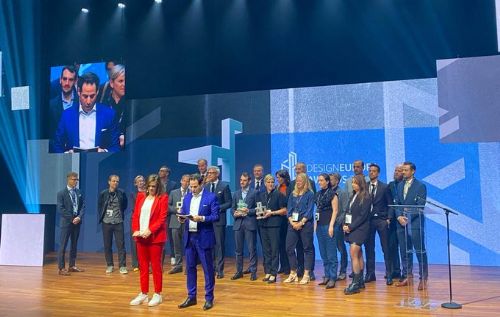 The Relio2 lighting system and the Philips IntelliVue X3 portable health monitor won the Small and Emerging Companies Award and the Industry Award respectively at the DesignEuropa Awards held in Eindhoven today.
The Relio² professional lighting system, created by Italian designer Marco Bozzola, is engineered to emit a light comparable to sunlight by making subtle chromatic variations.
The Philips IntelliVue X3 portable patient monitor, designed by Fabian Benedikter and Ceren Bagatar, allows for continuous monitoring of patients and enables safe and secure movement within hospitals.
The winning designs were chosen from a list of eight finalists.
The DesignEuropa Awards are organised by EUPIO to recognise designs that are protected as RCDs as well as leading figures in design.
As previously announced, the Lifetime Achievement Award was presented to André Ricard, designer of the 1992 Barcelona Olympics torch.
The Awards were held in collaboration with the Dutch Ministry of Economic Affairs and Climate Policy and the Benelux Office for IP, and coincided with Dutch Design Week.
MARQUES 2nd Vice-Chair Claudia Pappas of Thyssenkrupp attended the ceremony.
More information about the awards is available on EUIPO's website here. The photo of the winners and VIP guests was shared by EUIPO on Twitter.
Posted by: Blog Administrator @ 13.41
Tags:
DesignEuropa
,
André Ricard
,
Eindhoven
,
Perm-A-Link:
https://www.marques.org/blogs/class99?XID=BHA931
MARQUES does not guarantee the accuracy of the information in this blog. The views are those of the individual contributors and do not necessarily reflect those of MARQUES. Seek professional advice before action on any information included here.
The Class 99 Archive