CLASS 99

The blog for design law, in Europe and worldwide. This weblog is written by a team of design experts and fans. To contribute, or join us, or for any other reason, email class99@marques.org.
Who we all are...
MONDAY, 20 SEPTEMBER 2021
DesignEuropa Awards 2021 finalists announced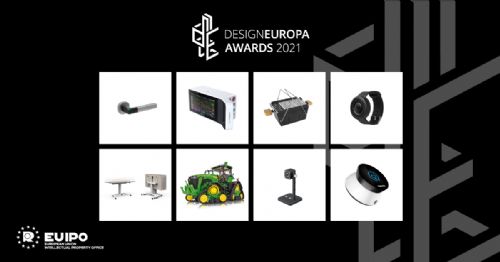 The eight finalists in the third edition of the DesignEuropa Awards come from seven countries and span sectors including healthcare, advanced engineering, automation and access solutions, furniture, professional lighting, outdoor appliances, security and IoT.
The winners will be announced at a ceremony in Eindhoven on 19 October, hosted by EUIPO in collaboration with the Dutch Ministry of Economic Affairs and Climate Policy and the BOIP.
There are four finalists in the Industry category:
SWEDEN: Aperio® H100 smart door handle (ASSA ABLOY Opening Solutions; designers: Mauro Menin)
THE NETHERLANDS: Philips IntelliVue X3 portable patient monitor (Koninklijke Philips N.V.; designers: Fabian Benedikter and Ceren Bagatar)
SPAIN: Talent desk system (Actiu Berbegal y Formas S.A.; designer: Marcelo Alegre)
USA: John Deere 8 Series tractors (Deere & Company; designers: Felix Nagelin, Brian Huenink, John W. Krieger, Eric Keen, Sebastian M. Himpel, Thorsten Hagner, Daniel J. Deboer, Martin Clay, Michael D. Kollath, Richard Knowels Jr, Thomas C. Boe, Charles Warren)
The finalists in the SME category are:
GERMANY: Knister Grill (Knister GmbH; designer: Carolin Kunert)
SWEDEN: MiniFinder Nano personal safety alarm (MiniFinder Sweden AB; designer: Dean Maros)
ITALY: Relio² professional lighting system (Relio Labs s.r.l.; designer: Marco Bozzola)
POLAND: StethoMe digital stethoscope (StethoMe sp z.o.o.; designer: Michał Bonikowski)
Lifetime Achievement
The Lifetime Achievement Award will be presented to André Ricard, known for the torch design of the 1992 Barcelona Olympics as well the Copenhagen ashtray and the Tatu lamp.
Find out more about the finalists, the Lifetime Achievement winner, the jury and the Award Ceremony on EUIPO's website.
Posted by: Blog Administrator @ 10.12
Tags:
DesignEuropa
,
André Ricard
,
Eindhoven
,
Perm-A-Link:
https://www.marques.org/blogs/class99?XID=BHA928
MARQUES does not guarantee the accuracy of the information in this blog. The views are those of the individual contributors and do not necessarily reflect those of MARQUES. Seek professional advice before action on any information included here.
The Class 99 Archive