CLASS 99

The blog for design law, in Europe and worldwide. This weblog is written by a team of design experts and fans. To contribute, or join us, or for any other reason, email class99@marques.org.
Who we all are...
MONDAY, 8 JUNE 2020
Book review: Terrell on the Law of Patents
In the latest post from the MARQUES Education Team, Shane Smyth reviews the 19th edition of Terrell on the Law of Patents (published by Sweet & Maxwell, 22 May 2020, £405):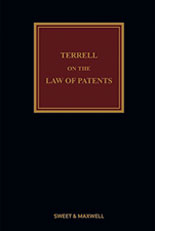 Reviewing a tome on patent law for the membership of MARQUES is not a task for the faint hearted but then again, this is no ordinary tome and sometimes even a diverse membership including a humble trade mark attorney (if you can find one) sometimes need a word to the wise.
I regularly find that my knowledge and experience in one area of IP law can be grafted onto a line of argument in another seemingly unrelated area of intellectual property. For example, the thorny issue of self-disclosure destroying novelty and the determination of whether a disclosure is in fact confidential is a relatively new issue before EUIPO in design matters.
However, there is a raft of established patent case law on this very issue and if you want to address this issue in a design matter, you can do no better than delve into the oracle that is Terrell.
In a similar vein, the expansive references to the principles and supportive case law on the rights afforded by prior use can be cross-fertilised from one sibling IP right to another. The way the explanation of principles is structured makes this cross-fertilisation seamless.
Epistemologists generally recognise four different sources of knowledge. If you are like me, then the trick is not so much what you instinctively know but where to look to acquire new or expand upon your existing knowledge.
When, as with Terrell, the knowledge can be achieved within the four corners of a single tome, that means a low carbon footprint in reaching your destination. This is the essence of why Terrell is now in its 19th edition. If you quote from Terrell, then you know you have the weight of authority on your side.
I have Terrell beside me when I am researching areas of design law which have similar principles to those pertaining to patent law.
Shane Smyth is a partner of FRKelly and a member of the Education Team. This post is part of an occasional series of book reviews from the Team (see also this post on the Class 46 blog)
Posted by: Blog Administrator @ 09.32
Tags:
Terrell
,
Education Team
,
book review
,
Perm-A-Link:
https://www.marques.org/blogs/class99?XID=BHA897
MARQUES does not guarantee the accuracy of the information in this blog. The views are those of the individual contributors and do not necessarily reflect those of MARQUES. Seek professional advice before action on any information included here.
The Class 99 Archive