CLASS 99

The blog for design law, in Europe and worldwide. This weblog is written by a team of design experts and fans. To contribute, or join us, or for any other reason, email class99@marques.org.
Who we all are...
MONDAY, 9 MARCH 2020
EUIPO analyses a decade of designs
Filings of registered Community designs (RCDs) increased by 36.2% between 2010 and 2019, according to a new report published by EUIPO. There were more than 988,000 applications by 84,000 applicants during the 10-year period.
The report, EUIPO Design Focus: 2010 to 2019 Evolution, is available to view and download (PDF). An infographic showing the key data is reproduced below.
It analyses trends in filings over the past 10 years, including the origin of applications. The top five countries (Germany, United Kingdom, France, Italy and Spain) accounted for 51% of total direct RCD filings. However, over the period, the EU share of filings fell by 15% while the United States and China increased their share by 4% and 12% respectively.
The leading applicant during the period was Rieker Schuh, followed by Nike and Samsung Electronics. Class 6 (Furnishing) was the most popular class, followed by class 2 (Articles of clothing and haberdashery).
During the period, there were more than 3,700 RCD invalidity procedures filed, and over 507,000 RCD registrations were renewed.
In the foreword to the report, EUIPO Executive Director Christian Archambeau writes: "In its next multi-annual strategy, the EUIPO Strategic Plan 2025, the office will be prioritising making EU trade marks and designs more user friendly by further modernising and updating the tools and information supporting different user segments according to their needs."
He adds: "A modernised design framework can only serve to further underline the importance of this sometimes underestimated IP right, since its accessibility makes it a key candidate for further promotion and wider use, especially for small businesses."
The European Commission evaluation of the EU and national design systems is continuing. MARQUES contributed to a Joint Paper on the Legal Review on Industrial Design Protection and also published comments on the reform, both of which can be downloaded from the Designs Team publications page.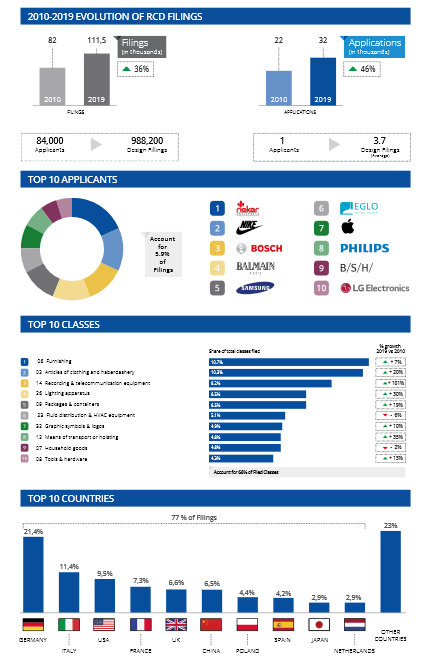 Posted by: Blog Administrator @ 09.22
Tags:
EUIPO
,
Rieker
,
EUIPO Design Focus
,
Perm-A-Link:
https://www.marques.org/blogs/class99?XID=BHA890
MARQUES does not guarantee the accuracy of the information in this blog. The views are those of the individual contributors and do not necessarily reflect those of MARQUES. Seek professional advice before action on any information included here.
The Class 99 Archive