CLASS 46

Now in its twelfth year, Class 46 is dedicated to European trade mark law and practice. This weblog is written by a team of enthusiasts who want to spread the word and share their thoughts with others.
Who we all are...
THURSDAY, 10 JANUARY 2008
Assessment of same-text, different-image marks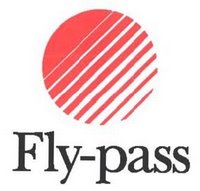 OHIM has recently posted this decision of the Fourth Board of Appeal in Case R 996/2006-4 Meridiana S.P.A. v Globalia Corporacion EmpresTrebuchet MS, S.A. Meridiana applied to register the FLY-PASS figurative mark on the right for, among other things, online booking of seats for travel; air transport, running airports; vehicle rental; information relating to fares, timetables and means of transport; services relating to checking vehicles and goods (Class 39).


Globalia opposed, citing its earlier Community and Spanish trade mark registrations of the mark on the left for, among other things, services for the transport, packaging and storage of goods; transport of travellers; arranging of travel and travel reservation (Class 39). Globalia maintained that, since the services were identical and the marks were strongly similar, there was a likelihood of confusion of the relevant consumers. The Opposition Division, upholding the opposition, agreed. So did the Fouth Board of Appeal. This case is a good example of how OHIM approaches the comparison of marks that have identical text but different visual impact, and how it moves on from that comparison to the assessment of likelihood of confusion.
Posted by: Blog Administrator @ 12.42
Tags:
Community trade mark opposition
,
comparison of figurative marks with the same verbal content
,



Sharing on Social Media? Use the link below...
Perm-A-Link:
https://www.marques.org/blogs/class46?XID=BHA70
Reader Comments: 0
Post a Comment
MARQUES does not guarantee the accuracy of the information in this blog. The views are those of the individual contributors and do not necessarily reflect those of MARQUES. Seek professional advice before action on any information included here.
The Class 46 Archive