CLASS 46

Now in its twelfth year, Class 46 is dedicated to European trade mark law and practice. This weblog is written by a team of enthusiasts who want to spread the word and share their thoughts with others.
Who we all are...
THURSDAY, 30 OCTOBER 2008
Use on foreign-language website fails to save Munch mark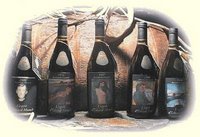 In a recent case from the Olso District Court, Hauge v Hansen (Case 08-014455TVI-OTIR/07), the trade mark L'ESPRIT D'EDVARD MUNCH ("The spirit of Edvard Munch") and MUNCH-VIN ("Munch Wine") were revoked. Hansen was a wine grower, his wine becoming a collector's item on account of it being the most northerly-produced wine in the world. He sold his wine under the names L'Esprit d'Edvard Munch and Munch-Vin (these being allusions to the famous Norwegian artist Edvard Munch of "The Scream" fame). Between 1995 and 1999 Hansen produced around 1,000 bottles a year, some being sold locally through the Norwegian wine monopoly and the rest being exported. He registered L'ESPRIT D'EDVARD MUNCH as a trade mark in May 1998 and MUNCH-VIN in March 1998, both registrations being for wine (Class 33). In 2001 Hansen became ill and had to cease production of his wine, but he maintained a website bearing information on how to order his wine from outside Norway.

Hauge's business, Rosmersholm, was an importer of spirits -- but not wine -- and named its products after famous Norwegians. After failing to obtain registration of EDVARD MUNCH for spirits on account of a likelihood of confusion wit Hansen's registrations. Hauge then sought revocation of the earlier marks for non-use, and succeeded. The court agreed that the use of a trade mark on an English-language website which bore a message stating that the goods for which the marks were registered in Norway could not be sold in Norway did not constitute use of the mark in that country. It is not yet known whether Hansen will appeal.

[source: Kaia Bugge Fougner and Felix Reimers, Advokatfirmaet Grette DA, Oslo, writing in World Trademark Report].
Posted by: Blog Administrator @ 11.41
Tags:
internet use
,
non-use
,
norway
,
revocation
,



Sharing on Social Media? Use the link below...
Perm-A-Link:
https://www.marques.org/blogs/class46?XID=BHA676
Reader Comments: 0
Post a Comment
MARQUES does not guarantee the accuracy of the information in this blog. The views are those of the individual contributors and do not necessarily reflect those of MARQUES. Seek professional advice before action on any information included here.
The Class 46 Archive