CLASS 46

Now in its twelfth year, Class 46 is dedicated to European trade mark law and practice. This weblog is written by a team of enthusiasts who want to spread the word and share their thoughts with others.
Who we all are...
FRIDAY, 26 SEPTEMBER 2008
Poland: PANORAMA FIRM still distinctive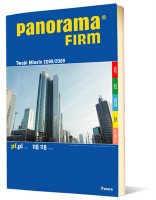 Eniro Polska applied for trade mark protection for PANORAMA FIRM in classes 16, 35 and 41 (telephone and address books, providing services to third parties concerning the promotion of goods and services, publishing services, assistance to third parties in the publishing business). The Polish Patent Office issued its decision on 6 September 1994 and granted the protection right, R-81181.

Panorama Firm-Marek Stefaniak from Sopot filed a request for invalidation of the right of protection for the PANORAMA FIRM mark, claiming that this sign had lost its distinctive character. The company from Sopot based its arguments on provisions of Article 169(1)(ii) of the Polish Industrial Property Law (the Act of 30 June 2000 on Industrial Property Law (Ustawa Prawo wlasnosci przemyslowej z dnia 30 czerwca 2000 r.) published in Dziennik Ustaw 2001 No 49, pos. 508, consolidated text on 13 June 2003, Dziennik Ustaw No 119, pos. 1117, with later changes):

1. The right of protection for a trademark shall also lapse:
(ii) on loss by the trademark of distinctive features for the reason that in consequence of the owner's acting or negligence it has become, in the course of trade, a customary mark consisting exclusively of elements which may serve, in the course of trade, for indicating, in particular, the kind, quality, quantity, price, intended purpose of the good, the process, time or place of its manufacturing, the composition, function or usability of the good, in respect of the goods for which the trademark has been registered,
Both conditions must appear together, which means that the sign has to lose its distinctiveness
and
that the trade mark owner contributed to such process.
The Polish Patent Office, in its recent decision of 18 August 2008 (act signature Sp. 304/05), rejected Panorama Firm-Marek Stefaniak's request and ruled that Eniro Polska had proved that PANORAMA FIRM trade mark was in intensive use and that it was also broadly advertised and protected. Posted by: Tomasz Rychlicki @ 13.02
Tags:
distinctiveness
,
Poland
,
Polish Patent Office
,
Polish trade marks
,
trade mark use
,



Sharing on Social Media? Use the link below...
Perm-A-Link:
https://www.marques.org/blogs/class46?XID=BHA593
Reader Comments: 0
Post a Comment
MARQUES does not guarantee the accuracy of the information in this blog. The views are those of the individual contributors and do not necessarily reflect those of MARQUES. Seek professional advice before action on any information included here.
The Class 46 Archive