CLASS 46

Now in its twelfth year, Class 46 is dedicated to European trade mark law and practice. This weblog is written by a team of enthusiasts who want to spread the word and share their thoughts with others.
Who we all are...
WEDNESDAY, 20 AUGUST 2008
"Pirates" made to pay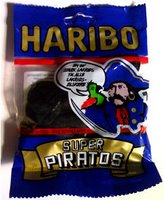 In Haribo Lakrids A/S v Hela Wine & Spirits (V-105-05), the Maritime and Commercial Court, Denmark, had an opportunity to make an award of damages in keeping with the provisions of Directive 2004/48 on the enforcement of intellectual property rights.

The facts were as follows: in 1955 Haribo began selling liquorice under the designation PIRATOS, registering that word as a trade mark in 1964 for goods in Classes 5 and 30. In 1981 Haribo registered the trade mark SUPER PIRATOS (Class 30). Hela, a wines and spirits business, secured registration of the trade marks LOS PIRATOS in 2004 and LOS PIRATAS in 2005 for goods in Class 33, but on each occasion their rights were extinguished following successful actions by Haribo. Hela subsequently made and sold spirits under the name 'Original Los Piratas'; Haribo obtained interim injunctive relief, following which its proceedings for trade mark infringement were brought before the Maritime and Commercial Court.

Finding that the designation LOS PIRATAS was confusingly similar to Haribo's marks and that the infringement was deliberate, that Court ordered Hela to pay reasonable remuneration and damages. As the infringement was deemed to be wilful, Hela was also ordered to pay further damages in line with the EU Enforcement Directive.



Having calculated that Hela's profits derived from the sale of infringing products totalled Dkr 88,989, the court then took into account the detrimental effect of the infringing sales on the reputation of Haribo's trade mark's reputation and market position, particularly in the light of Hela's association of the marks with alcoholic beverages -- which Haribo, selling confectionery to children, was anxious to avoid. Accordingly damages were fixed at Dkr 150,000. Hela was also ordered to pay a fine and costs.

[Source: article in International Law Office by Mads Marstrand-Jorgensen, Norsker & Co].
Posted by: Blog Administrator @ 12.20
Tags:
damages
,
Denmark. trade mark infringement
,
Perm-A-Link:
https://www.marques.org/blogs/class46?XID=BHA555
Reader Comments: 0
Post a Comment
MARQUES does not guarantee the accuracy of the information in this blog. The views are those of the individual contributors and do not necessarily reflect those of MARQUES. Seek professional advice before action on any information included here.
The Class 46 Archive