CLASS 46

Now in its twelfth year, Class 46 is dedicated to European trade mark law and practice. This weblog is written by a team of enthusiasts who want to spread the word and share their thoughts with others.
Who we all are...
THURSDAY, 22 SEPTEMBER 2022
36th Annual Conference: Thursday 22nd September
The second update from the 36th MARQUES Annual Conference covers panel sessions on deepfakes, avatars and other creatures and on branding alternative products.
Beyond reality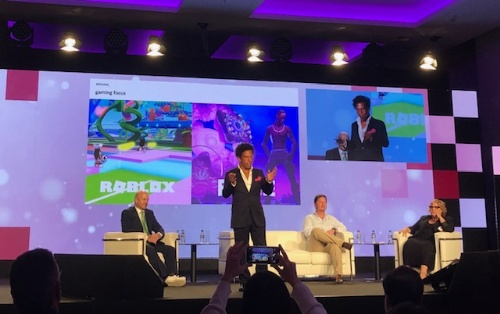 In today's first session, Jimmy Klein, Diageo, Spain provided "a taste of the future", explaining how brands are exploring virtual worlds and the Metaverse. "The Metaverse is not new. It is born out of gaming and there are many platforms, which are constantly being created," he said, explaining that it is built on technologies including Blockchain, NFTs, platforms, crypto, wearables and headsets, and 5G.
There are 2.7 billion games players globally, their average game is 33 years old and 46% are female (according to data from 2020). So this new world requires new business and advertising models, said Jimmy: "What this means for brands is: gamification, world building, avatars and 3D, AR/VR and virtual and hybrid experiences."
He provided several examples of how brands are exploring the Metaverse. For example, Diageo created a game for people to play while waiting in a bar while EE built a game enabling sports fans to play football virtually against others in the stadium. He said the secrets to success include: create inconceivable worlds; enhance and extend real experiences; participation means more than views; and award the curious.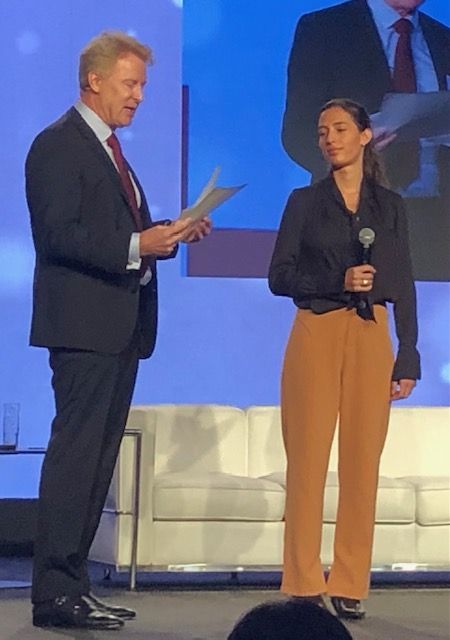 MARQUES Chair Joachim Hofmann presented the Lewis Gaze Memorial Scholarship to Maria Delfina Momeño for her essay on the impact of artificial intelligence on trade mark law. The three previous winners of the Award were also present at this year's Annual Conference.
"The question is not why or if, it is how and when. We just need to find the correct way of doing it – and lawyers play a key role in securing the brand, protecting the consumer and giving them a good experience," said Jimmy.
Patrick Juarez Pennant, SAMY Alliance, Spain discussed brands, including fashion and beauty brands, which are already in the Metaverse on platforms such as Roblox and Fortnite, and the lessons they provide. "Brands need to be a part of the Metaverse …Today, being part of the Metaverse really works – because of the diversity and inclusion in tech. In four years, a brand must be in the Metaverse to reach their audience and generate revenue," he said.
When it comes to monetising digital assets, Patrick recommended seeing what other brands are doing, finding the right platform, deciding on the best approach for your brand, defining the long-term strategy and keeping on building. "Metaverse will become a new normalised channel to interact with others. Brands need to learn about it now and adapt how they work," he said.
Moderator Sofia Martinez-Almeida, Gomez-Acebo & Pombo, Spain, talked briefly about deep fakes and how they can be used by brands, highlighting the legal and other issue that arise. She shared examples including Cruzcampo's deep fake advert using the Spanish star Lola Flores, which was very successful, and ads featuring Bruce Willis, Audrey Hepburn and Elvis Presley.
Wrapping up the panel, Raymond Klaassen, Digital Transformation Department, EUIPO, Spain presented EUIPO's initiatives in AI, Blockchain and e-filing. These include the IP Register in Blockchain, which currently has four IP offices taking part and is expected to include all the EU offices by 2025. AI is being used by EUIPO in image processing, voice assistants/chatbots and comparison of goods and services.
Raymond also provided an update on the new EUTM Filing, which was activated on 1st August this year. The old e-filing will be switched off in November, and the EUIPO website and User Area will also be revamped next year. He added that all web services will be made available as APIs. "I believe this is your way forward to work with us," said Raymond.
Branding alternative products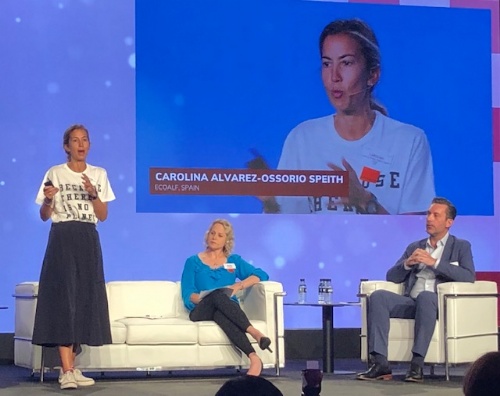 Today's second panel looked at sustainability in the food and drink and clothing and footwear sectors. Carolina Alvarez-Ossorio Speith, ECOALF, Spain described the damage being done to the environment and oceans by plastic bottles and other items. "Fashion is one of the most polluting industries in the world … If you're not part of the solution, you're part of the problem," she said. ECOALF's response has been to develop 500 recycled fabrics from waste products such as fishing nets, tyres and coffee. It uses the registered trade mark ECOALF BECAUSE THERE IS NO PLANET B on many of its products.
Carolina described the challenge of registering trade marks for ECOALF and ECOALF 1.0 up to 12 years ago, and successfully taking action against Primark's use of BECAUSE THERE IS NO PLANET B on cheap children's tee-shirts.
Rowena Tolley, Kilburn & Strode, UK, shared some research from Deloitte that shows how consumers prioritise sustainability and are demanding more information about sustainable brands. She identified three main challenges for alternative branding: the choice of name, and the risks of being descriptive or non-distinctive; the difficulty of enforcing marks that are weaker, as demonstrated by last year's OATLY v PUREOATY case in the UK; and greenwashing.
"The authorities are increasingly cracking down on greenwashing … you need to be careful that you are genuinely what you claim to be," said Rowena, who added: "Greenwashing is worse for a brand than not being sustainable in the first place … It can impact individual consumers, groups of consumers and authorities such as the UK's ASA and CMA. "It's up to us as lawyers to ask clients to check their claims."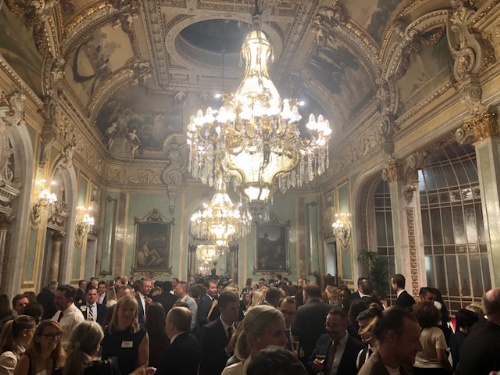 The annual Cultural Evening was held at the Casino de Madrid on Wednesday, and featured cuisine from all of Spain's regions.
Rowena also highlighted sustainable branding initiatives from major brands such as Louis Vuitton and Nespresso, which has recently achieved B Corp certification, and the rise of the "sustainable stable" – the use of a house mark to highlight sustainability values by FMCG companies such as Unilever and Nestlé. Other interesting trends include fashion companies such as Nike and Levi's advertising how to extend the life of products (potentially damaging their own sales) and business partnerships built around shared values. "Partnering with a sustainable brand can lend expertise and credibility," said Rowena. "For trade mark attorneys, this raises questions such as: is there a new brand, or a brand moving into new goods and services? And who owns the IP in the brand?"
"It's great when collaboration takes place if the vision is the same by both partners," said Carolina. "Then you're going for the same thing and you're much more aligned." Moderator Mark Devaney, Clyde & Co LLP, UAE, said it even affects service providers such as law firms: "We were recently asked by a client about our sustainability credentials and it's going to become more common."
Another key topic is third-party seals of approval, such as B Corporation certification. "It's more than a certification, it's a community," said Carolina, adding: "It should become a standard."
Posted by: Blog Administrator @ 13.21
Tags:
Annual Conference
,
Madrid
,
Celebrating Marks
,



Sharing on Social Media? Use the link below...
Perm-A-Link:
https://www.marques.org/blogs/class46?XID=BHA5114
Reader Comments: 0
Post a Comment
MARQUES does not guarantee the accuracy of the information in this blog. The views are those of the individual contributors and do not necessarily reflect those of MARQUES. Seek professional advice before action on any information included here.
The Class 46 Archive