CLASS 46

Now in its twelfth year, Class 46 is dedicated to European trade mark law and practice. This weblog is written by a team of enthusiasts who want to spread the word and share their thoughts with others.
Who we all are...
WEDNESDAY, 21 SEPTEMBER 2022
36th Annual Conference: Wednesday 21st September
More than 900 people are attending the 36th MARQUES Annual Conference, which is taking place in Madrid this week. Class 46 presents the first of three daily reports on the Conference sessions.
Impact of AI and Blockchain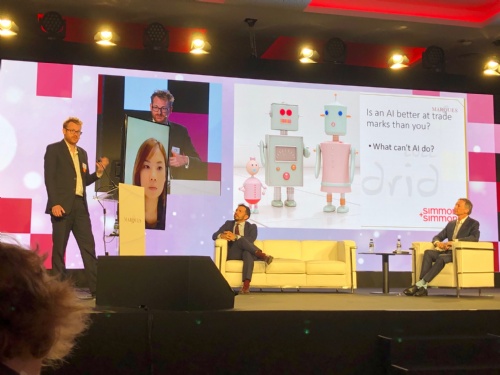 Introducing the first panel session of this year's MARQUES Annual Conference, on AI and Blockchain, moderator Peter Wild, Wildpeak Pte Ltd, said: "MARQUES has a tradition of focusing on solutions not problems."
In his presentation on AI tools, Darren Meale, Simmons & Simmons, UK, asked: "Is AI better at trade marks than you?", and answered: "Yes, sometimes." Giving examples such as calculators and spell checkers, he said that super-fast and highly accurate AI can be amazing at some things such as sorting data and searching but terrible at others: "What we're seeing at the moment is going straight to the algorithms, so you get search results much quicker, and the use of AI in image searching and policing infringements," said Darren.
He also introduced Rocketeer, an AI tool which he has developed over the past eight years. It predicts the outcome of a likelihood of confusion dispute at EUIPO with 92% accuracy, along with explanations of its predictions. "AI can recall every case you ever teach it. We taught our AI the rule and the outcome of 11,000 decisions," said Darren. "We all tend to overestimate our abilities. AI can do some parts of our job several thousand times faster and much better. But it cannot do certain parts of our job; the key is to understand what it can and can't do and bring it into your team to supplement your human abilities."
Speaking via videoconference, Michelle Tan, Zuellig Pharma, Singapore, described how Blockchain technology is being used in healthcare supply chains to identify counterfeits and secure data. "Blockchain technology is top of the list for trust, security, scalability, transparency and it is consensus-based," she said.
Zuellig's eZTracker app provides product authentication, cold chain monitoring, tracking of grey market products and auto-replenishment. It is already live in Asia and can be connected to all major cloud providers. Zuellig is also working with 13 global pharma companies and 17 other entities on PharmaLedger.
Advantages of eZTracker include access to e-product information and direct patient engagement. It can also generate data that can be shared with law enforcement. "We're using Blockchain to help safeguard healthcare in Asia," said Michelle.
In his contribution, José Antonio Gil Celedonio, Director General, Spanish Patent and Trademark Office, Spain stressed the importance of "human intelligence over artificial intelligence" for IP offices. "Our duty is to serve our societies, and give users quality, cost efficiency and timely services," he said, adding that AI tools must balance efficiency and the rule of law, and the right answers have not yet been identified: "AI solutions must be found at a European level and must be human-centric."
However, he said Blockchain already has many potential applications in IP, for example in proving trade mark use and in fighting counterfeits: "We should open our procedures to include the use of Blockchain technologies by users."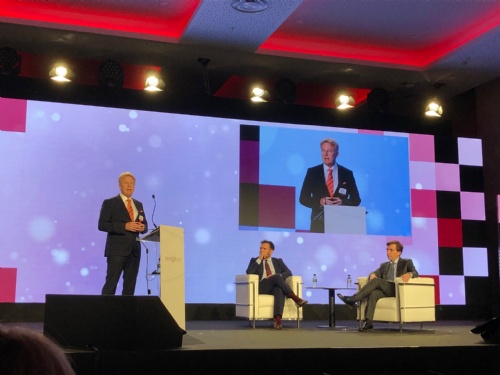 Mr Gil Celedonio also took part in the welcoming ceremony, where he emphasised the importance of users and public-private cooperation. "We must privilege a user-oriented approach … dialogue with users associations is key in the constant improvement of our always evolving services," he said.
Input is particularly important as services to users will change, for example with digitisation and sustainability – two topics at the heart of this year's Conference. "The economic contribution of trade mark and brand owners to growth should not be underestimated," he said. But he also acknowledged that "turbulences have a clear impact on the trade mark field. The drop in trade mark applications is a reality." This increases the importance of collaboration and improvements, such as the new simple and efficient invalidation/revocation system being introduced in Spain: "Our system is resilient enough to rebound when the situation improves."
In his speech, José Luis Martínez-Almeida Navasqüés, Mayor of Madrid, welcomed everyone to the city and stressed the importance of intellectual property to businesses and society in Madrid, Spain and Europe.
MARQUES Chair Joachim Hofmann said the conference is partly about celebrating being back together in person for the first time in three years: "This is a special conference. Being able to see each other again is wonderful."
Towards a digital jurisdiction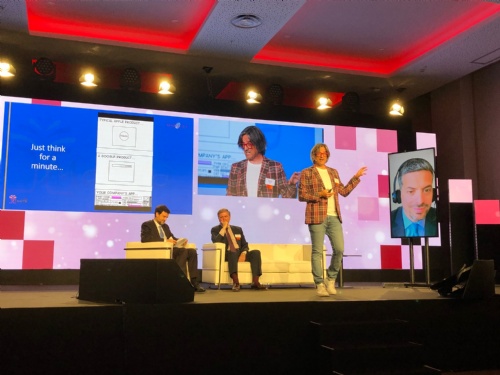 Today's second session looked at moves towards digital jurisdiction, focusing on the emergence of electronic justice, how ADR is adapting to an online environment, and why brands and institutions need to adapt to meet changing consumer expectations.
Javier Fernández-Lasquetty, Elzaburu SLP, Spain kicked off the discussion by asking: What happens where we have hundreds of thousands of cases all over the world? He discussed the rise of "digital jurisdiction" including in the procedures offered by search engines, social networks and sales platforms – all of which have pros and cons. "The problem is the rules are based on the platform, not on the law," said Javier Fernández.
There are now private platforms offering centralised ADR such as Kleros Court and Aragon Court, which involve user-based juries, he added: "If life is digital, justice should be digital (at least for some cases) … Maybe we have to take a step forward and have a digital jurisdiction managed by international associations, regaining jurisdiction that has been passed to private organisations."
Leandro Toscano, Head of Business Development Unit, WIPO Arbitration and Mediation Centre in Switzerland, said the number of ADR cases has increased in recent years and "we see a trend towards more and more use of online tools" as well as use of multi-tiered dispute resolution clauses. The UDRP is entirely online, and more than 60 IP offices also provide online mediation/conciliation services.
He also referred to a recent report published by WIPO on B2B digital copyright and content-related disputes and the WIPO Expert Determination for User Uploaded Content Disputes, which is in the pilot phase.
But legal institutions have a lot of work to do in order to provide the simplicity, personalisation, speed and "gamification" that internet users expect, said Ricardo Pérez, Kantar, Spain. He pointed out that consumers today have an attention span of just eight seconds and evidence suggests only 3% of people remember adverts they have seen.
Ricardo said the key to growth is delivering a "great consumer experience" and being "human-centric". He gave three tips on how to do this: think and act as a consumer not a brand, learn from other markets and brands, and do not confuse seriousness with professionalism.
The panel was moderated by Miguel Angel Medina, Elzaburu SLP, Spain.
Sustainability in the spotlight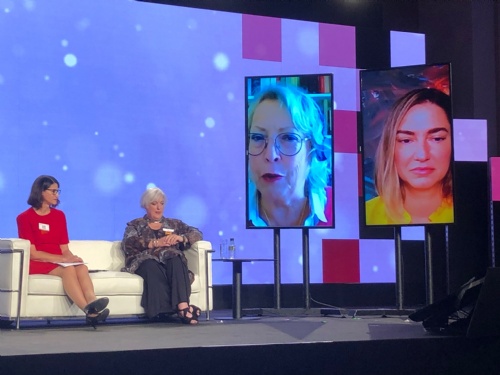 The use of Blockchain also came up in today's third session, moderated by Claire Lehr, Edwin Coe LLP, UK, which included two case studies of sustainable companies and analysis of sustainability trends.
Marianne van Keep, Verstegen Spices & Sauces B.V., The Netherlands, described how Verstegen aims to become the most sustainable spice company in the world. "It's important for the company to be free of debt – not just financial debt, but debt to the world and the climate." Its strategy is based around people, planet, profit and participation, and having fair and green supply chains.
This means paying attention to climate, child labour, the environment, polyculture and the SDGs. She stressed the importance of partnership and transparency: Verstegen uses a Blockchain tool to track agreements with farmers. "We want to have impact to make a difference," she said. "We want to be climate-neutral historically – and we were founded in 1886 … Every company that is not sustainable will lose its licence to operate; we have to change and work together to achieve those ambitions."
Maureen Shannon, of electric vehicle manufacturer Rivian Automotive, USA, brought the perspective of a company that is, as she said, "changing the SUV mindset" with its FOREVER mission. "We want to create products in a way that is responsible and allows us to sustain life on our planet," she said. "It's about We not Me."
Rivian has 4,000 trade mark applications and registrations in almost 90 jurisdictions. "When we're building the brand portfolio, we need to think through the lens of the future," said Maureen. The sustainability strategy extends not just to the production of e-vehicles and infrastructure but also the components: vegan leather, sustainably sourced wood accessories and even sustainable apparel.
As part of its FOREVER Mission, Rivian also invests 1% of its equity into The Forever Fund to create new tools, technologies and materials to improve sustainability in every part of the driving experience – including the chassis, battery and charging, passenger experience and automated systems. "There's a whole package involved from the beginning," said Maureen.
"Sustainability will soon become part of norm setting," said Marion Heathcote, Davies Collison Cave, Australia. "We're now in the era of brand activism, and this is where sustainability is starting to have a real impact." This means looking at environmental and social positions and brands becoming engaged in issues around sustainability.
This is not a passing trend and brands represents all the values of corporations, said Marion: "Brands are pillars of social responsibility … There's an opportunity for brands to emerge as a stabilising force, and a force for good." The question is: how to do that? Marion stressed the importance of goal setting, consumer engagement and responding to six sustainability trends: regenerative agriculture, blue carbon, the race to zero and beyond, climate risk is still investment risk, is biodiversity risk the new climate risk?, and the future of work is now.
Responding to external disruption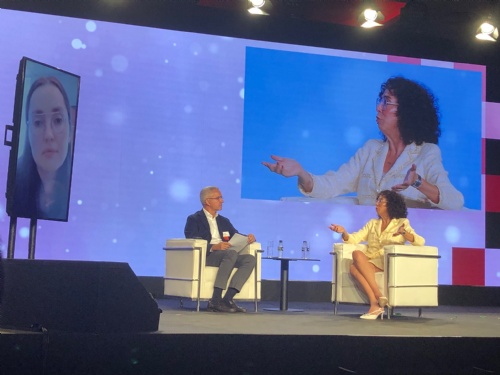 In today's final session, there was an "Oprah-style" discussion between moderator Vuk Sekulić, MSA IP, Serbia; Myrtha Hurtado Rivas, Nestlé, Switzerland (formerly of Novartis); and Paola Piccoli, MF Brands Group, Switzerland about the impact of disruption on their work.
Myrtha described the sudden changes brought by the COVID-19 pandemic, including business disruption, changes to working practices, additional caring responsibilities and redundancy of certain roles. Paula identified six main challenges for her team: paperwork; lack of work tools at home; receiving and sending mail and parcels; use of bailiffs and notaries; access to shared servers; and the risk of loneliness – which has been the most difficult to handle. "Our team responded to the challenges with optimism and open-mindedness," she said.
Among the changes introduced at MF Brands was the implementation of a brand enforcement database, virtual enforcement seminars, the introduction of electronic signatures, and the distribution of equipment such as screens.
"When things have to be done, they get done," said Myrtha, but she added: "Despite all the tools that make it easy to communicate, you miss the spontaneous discussion with remote working. We have to figure out how we give people space to do that. One of the biggest challenges for us was how to onboard people during the pandemic."
The speakers also discussed the pros and cons of digitisation, the growth of e-commerce, investigations, new counterfeiting challenges arising from the pandemic, changes to trade mark portfolios, virtual hearings and procedures at courts and IP offices, training authorities, solidarity initiatives and mental health awareness. "We support the IP system by filing trade marks and using the system," said Myrtha, while Paula added: "We really tried to take the positives out of the situation."
Posted by: Blog Administrator @ 16.16
Tags:
Annual Conference
,
Madrid
,
Celebrating Marks
,



Sharing on Social Media? Use the link below...
Perm-A-Link:
https://www.marques.org/blogs/class46?XID=BHA5113
Reader Comments: 0
Post a Comment
MARQUES does not guarantee the accuracy of the information in this blog. The views are those of the individual contributors and do not necessarily reflect those of MARQUES. Seek professional advice before action on any information included here.
The Class 46 Archive