CLASS 46

Now in its twelfth year, Class 46 is dedicated to European trade mark law and practice. This weblog is written by a team of enthusiasts who want to spread the word and share their thoughts with others.
Who we all are...
TUESDAY, 8 MARCH 2022
Celebrating International Women's Day 2022
To mark International Women's Day, MARQUES is pleased to provide some links to information on WIPOs website.
The WIPO Training, Mentoring and Matchmaking Program on Intellectual Property for Women Entrepreneurs rom Indigenous Peoples and Local Communities (WEP) aims to encourage women entrepreneurship, innovation and creativity related to traditional knowledge and traditional cultural expressions.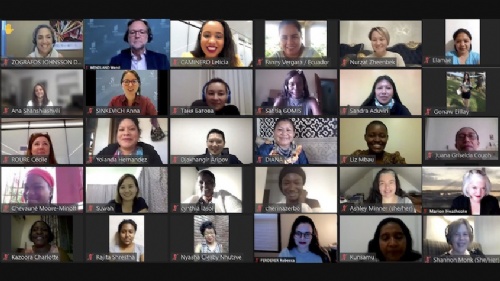 It does this by strengthening the capacity of indigenous and local community women entrepreneurs to make strategic and effective use of intellectual property tools in support of their businesses.
The program comprises a training phase and a mentoring and matchmaking phase. It included a practical workshop in Geneva, in November 2019, and a virtual practical workshop in October 2021.
The WEP participants include designers, craft makers, farmers, food producers, jewellers, potters, textile makers, artists and biologists among others.
They come from Africa, the Arctic, Asia, Central, South America and the Caribbean, Eastern Europe, Russia, Central Asia and Transcaucasia, North America and the Pacific regions.
WIPO also published today a review of women's participation in innovation and international patents in 2021. This showed women inventor's share of international patent applications grew from 15.5% to 16.5% in 2021.
WIPO stated:
While this increase shows advancement towards the goal of equal representation in innovation and IP use, growth is slow and inequalities persist. At the current rate, predictions show that parity may only be achieved in 2053, i.e. 31 years from now. This means women inventors and innovators today may never experience equality and representation in their careers.
MARQUES joins with our members worldwide in celebrating International Women's Day today, and sends best wishes and support to all women working in IP or related areas – and especially those experiencing any form of discrimination or exclusion.
Photo showing virtual practical workshop taken from WIPO website.
Posted by: Blog Administrator @ 15.51
Tags:
International Women's Day
,
IWD
,
WIPO
,



Sharing on Social Media? Use the link below...
Perm-A-Link:
https://www.marques.org/blogs/class46?XID=BHA5072
Reader Comments: 0
Post a Comment
MARQUES does not guarantee the accuracy of the information in this blog. The views are those of the individual contributors and do not necessarily reflect those of MARQUES. Seek professional advice before action on any information included here.
The Class 46 Archive