CLASS 46

Now in its twelfth year, Class 46 is dedicated to European trade mark law and practice. This weblog is written by a team of enthusiasts who want to spread the word and share their thoughts with others.
Who we all are...
FRIDAY, 4 MARCH 2022
CJEU and EU General Court cases rose in 2021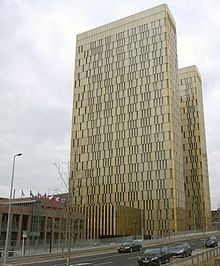 Data published by the CJEU shows that the number of cases brought before both the EU courts in Luxembourg increased in 2021.
The CJEU received 838 new cases, compared to 737 in 2020. It completed 772 cases, meaning that 1,113 were pending at the end of the year.
The Court highlighted the impact of its decisions on the rule of law, the environment, the protection of personal data, social protection, the fight against violence against women and consumer protection.
At the General Court, there were 882 new cases, compared to 847 in 2020, and 951 cases completed. The Court has managed to reduce the backlog of pending cases from 1,497 in 2020 to 1,428 in 2021.
The General Court hears appeals from EUIPO's Boards of Appeal, among other cases. Its decisions can be further appealed to the CJEU, but these have been very rare since reforms in 2019.
The CJEU also hears references for a preliminary ruling from courts in EU member states. In 2021, courts in Germany filed the most requests (106) followed by those in Bulgaria (58) and Italy (46).
MARQUES provides summaries of relevant CJEU and General Court decisions on the Twitter feed and a roundup of selected cases in each issue of the HouseMARQUES newsletter.
Read more on the CJEU website.
Posted by: Blog Administrator @ 09.38
Tags:
CJEU
,
EU General Court
,
,



Sharing on Social Media? Use the link below...
Perm-A-Link:
https://www.marques.org/blogs/class46?XID=BHA5070
Reader Comments: 0
Post a Comment
MARQUES does not guarantee the accuracy of the information in this blog. The views are those of the individual contributors and do not necessarily reflect those of MARQUES. Seek professional advice before action on any information included here.
The Class 46 Archive