CLASS 46

Now in its twelfth year, Class 46 is dedicated to European trade mark law and practice. This weblog is written by a team of enthusiasts who want to spread the word and share their thoughts with others.
Who we all are...
MONDAY, 21 JULY 2008
FOOTACTION not "well known" in Ireland in absence of supporting evidence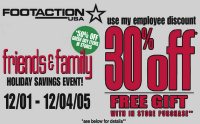 In an opposition before the Acting Controller, the Irish Patents Office dismissed an opposition by US retailers FL Retail Operations, proprietor of the FOOTACTION trade mark in various countries and owners of the www.footaction.com domain name, to the application of British retailers John David Group to register the words FOOT ACTION as a trade mark in Ireland.

The John David Group, which sold sports and leisure goods through its JD Sports shops, already held a Community trade mark registration for FOOT ACTION, and applied to register FOOT ACTION in Ireland for goods and services in Classes 18, 25 and 35. FL Retail opposed on various grounds, most of which were unsubstantiated and were dismissed. A serious ground of opposition was that, under Section 11(1)(c) of the Trade Marks Act 1996, FL Retail's mark qualified as an earlier trade mark by virtue of its entitlement to protection as a well-known mark under the Paris Convention for the Protection of Industrial Property. It was held, however, that there was no evidence that, on the relevant date, FL Retail's mark was well-known in Ireland. The evidence reflected a level of activity that was so sporadic and paltry in its nature as to be incapable of having established FL Retail's mark as a well-known mark in Ireland, even by the date of the hearing itself [source, note by Patricia McGovern, DFMG Solicitors, Dublin, on The John David Group Plc v FL Retail Operations Limited, in World Trademark Report, 11 July 2008].
Posted by: Blog Administrator @ 05.59
Tags:
Ireland
,
Paris Convention
,
well-known mark
,



Sharing on Social Media? Use the link below...
Perm-A-Link:
https://www.marques.org/blogs/class46?XID=BHA507
Reader Comments: 0
Post a Comment
MARQUES does not guarantee the accuracy of the information in this blog. The views are those of the individual contributors and do not necessarily reflect those of MARQUES. Seek professional advice before action on any information included here.
The Class 46 Archive