CLASS 46

Now in its twelfth year, Class 46 is dedicated to European trade mark law and practice. This weblog is written by a team of enthusiasts who want to spread the word and share their thoughts with others.
Who we all are...
MONDAY, 14 JUNE 2021
Book review: Trade Marks Law and Practice, 5th edition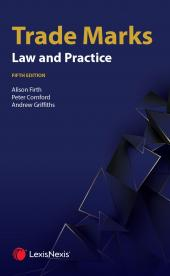 Charlotte Duly of the MARQUES Education Team reviews the latest edition of "Trade Marks Law and Practice" by Alison Firth, Peter Cornford and Andrew Griffiths (published by Jordan Publishing at £179.99 in paperback and available here).
This is the fifth edition of this well-regarded text, providing a mixture of legal text and practical elements covering UK trade marks, in addition to EU and international considerations. The previous edition was published in 2016 and since that date the UK has left the EU (Brexit).
The function of a trade mark
Trade marks act as indicators of origin, and case law has confirmed this, but this is not a straightforward concept and there are other functions, and factors, that need to be taken into account. The book discusses these various considerations with supporting case law.
There is an interesting consideration of what brands are, through the views of the authors and several third parties, including discussion as to whether "brand" is a marketing term, the identity of a company's product, the public perception of a good/service or a combination of these elements.
Particularly useful during the modern age of social media is a discussion as to whether the mark selected will be suitable when considering factors such as longevity and the chosen advertising media.
Passing off
Passing off is covered in detail with a summary of the relevant case law and helpful tables setting out the various typical forms of misrepresentation cross-referenced with case law examples.
In fact, diagrams appear throughout the book, aiding the understanding of concepts and processes, including registration procedure and infringement.
COVID19
Interestingly, and perhaps uniquely for an IP text, COVID-19 is featured.
A summary of the main issues this presented to the IP community is accompanied by useful links to websites with a host of material to assist in navigating issues caused by the pandemic. It is also an interesting reflection on what has happened over the past year or so in terms of the impact on IP offices.
Of further relevance to the pandemic is the section on territorial issues, with COVID-19 having forced many businesses online, perhaps bringing new customers in from other countries but with accompanying trade mark issues.
Brexit
The UK remained in the Brexit transition period when this book was published, meaning that life largely carried on as normal, but that period has subsequently come to an end. This book contains a useful summary of points to note, including a handy checklist that features things many will still need to remember and a reminder of the approaching 30 September 2021 deadline for filing a separate UK application based on any EU applications that were pending at 31 December 2020.
A useful book
This book is useful for both IP lawyers and non-specialist lawyers. In-house lawyers, and those who do not undertake trade mark work on a day-to-day basis, may find this particularly useful.
Trade mark law is complex, with many factors to be considered, and the breadth of this book and references to case law are useful to all who practise in this field.
Charlotte Duly is Head of Brand Protection at Charles Russell Speechlys LLP and a member of the MARQUES Education Team. The picture shows the cover of the book as seen on the publisher's website
Posted by: Blog Administrator @ 17.01
Tags:
book review
,
Brexit
,
COVID-19
,
,



Sharing on Social Media? Use the link below...
Perm-A-Link:
https://www.marques.org/blogs/class46?XID=BHA5002
Reader Comments: 0
Post a Comment
MARQUES does not guarantee the accuracy of the information in this blog. The views are those of the individual contributors and do not necessarily reflect those of MARQUES. Seek professional advice before action on any information included here.
The Class 46 Archive