CLASS 46

Now in its twelfth year, Class 46 is dedicated to European trade mark law and practice. This weblog is written by a team of enthusiasts who want to spread the word and share their thoughts with others.
Who we all are...
WEDNESDAY, 12 AUGUST 2020
Book Review: The Great Catapult: How Integrated IP Management Will Shoot Your Brand to Success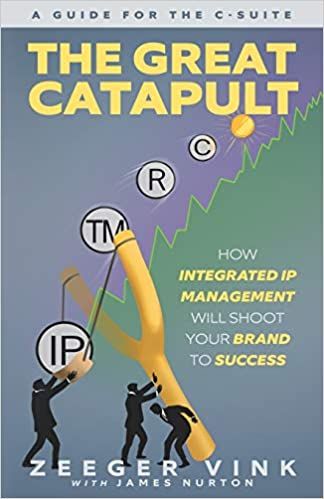 Charlotte Duly of the MARQUES Education Team reviews a new book "The Great Catapult: How Integrated IP Management Will Shoot Your Brand to Success" by Zeeger Vink (with contributions from James Nurton), available in paperback (£17.99) and Kindle (currently £6.24) from Amazon.
This book was published in July 2020 and benefits from having been written by someone who has worked with companies owning significant portfolios and well-known brands. Zeeger Vink is assisted by contributions from James Nurton, who will be familiar to MARQUES members.
This is not a legal tome or textbook as such, and is therefore a little different to the books typically reviewed on this forum, but it will be of interest to many MARQUES members. Businesses will find it insightful and IP lawyers will want their clients to read this – it clearly explains why IP is so important to a business and should be managed and treated as a valuable asset.
IP lawyers often state that IP is their clients' most valuable business asset but the cost and time taken to explore and protect that notion is not always expended. This book explains not only why IP is so important but that an integrated approach to IP management is key.
Types of IP explored
Whilst certain industries are regarded as having IP at their core, particularly creative industries where the output is effectively IP such as music, films, and software, all businesses have some form of IP that is exploited and should be valued and managed: "IP can best be seen as a toolbox for creators and entrepreneurs to capture the value of their investments."
The book provides a useful summary of the different types of IP rights, along with examples, forming a useful guide for those who are less familiar with the topic. This expands into an eloquent discussion of why you need the right tools to protect your output and your business as a whole. The discussion of the different forms of protection for different elements of the same product is easy to understand, explaining the interplay between trade marks, designs and patents for a single item. For those with a stronger IP background, the book helpfully directs the reader to which chapters they may find most useful.
Economic value of IP
To add weight to the discussion of the importance of IP and its management, the text is well researched and backed up with data to provide a fascinating insight into the importance of IP to the wider economy. For example, in the US and EU, 40% of GDP and over 30% of jobs are attributable to IP-intensive industries. IP-intensive industries account for 81% of EU trade with the rest of the world.
Strategy for businesses
The role of IP within a company is explored and identified as being "somewhere between legal and marketing".
This book makes the important case for including trade mark protection within a company's branding strategy and integrating IP into the general business strategy. Businesses can make sure their IP is captured and exploited by creating "IP reflexes" at relevant operational points. The rationale for this is emphasised with cautionary tales of IP that was not protected at the right time or in the right place. Even if a business is not in an IP-heavy industry, IP protection safeguards the significant investment in promotion of brands and products. Every business will have IP which should be protected and maintained.
The role of a companywide IP policy is crucial, along with a brand guide to dictate how a brand should be used on both internal and external communications. Through integrated IP management you can build IP consciousness throughout a business, covering all areas including those that may not be immediately obvious such as ensuring IP generation and ownership are covered in employee contracts. This book contains handy guidance for ensuring all employees are IP conscious – something all IP legal practitioners no doubt support!
Case studies from James Nurton, drawing on his experience as an IP journalist, and with contributions from a number of the brands featured in the book, bring the importance of IP management to a real world context.
IP as an asset
Covering the full spectrum of IP, the book also explores IP as an asset; something that can generate revenue through licensing and appear on the balance sheet.
Issues such as counterfeiting and the impact of the rise of social media are discussed, both being situations where there is use of brands by the public and other third parties.
The appendices contain helpful checklists to allow business to implement some of the guidance in the book, including a CEO checklist and guide for preparing an IP report.
Overall, an easy to digest book that helps businesses of any size identify, capture and utilise their IP.
Charlotte Duly is Head of Brand Protection at Charles Russell Speechlys LLP and a member of the MARQUES Education Team. If you would like to suggest a book for the Team to review, please contact Charlotte via the Team's page
Posted by: Blog Administrator @ 07.48
Tags:
book review
,
The Great Catapult
,
Zeeger Vink
,
Perm-A-Link:
https://www.marques.org/blogs/class46?XID=BHA4897
Reader Comments: 0
Post a Comment
MARQUES does not guarantee the accuracy of the information in this blog. The views are those of the individual contributors and do not necessarily reflect those of MARQUES. Seek professional advice before action on any information included here.
The Class 46 Archive