CLASS 46

Now in its twelfth year, Class 46 is dedicated to European trade mark law and practice. This weblog is written by a team of enthusiasts who want to spread the word and share their thoughts with others.
Who we all are...
MONDAY, 11 NOVEMBER 2019
Luxury Brands Symposium day 2 report
The second and final day of the third MARQUES Luxury Brands Symposium, held in Milan, looked at expanding luxury brands in different directions and the latest CJEU case law on luxury brands.
Expanding luxury brands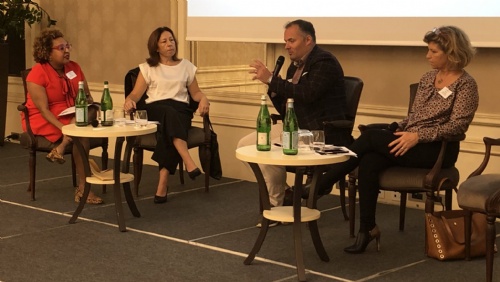 Introducing a panel looking at types of expansion (such as product/ service extensions within the same range, extension into complementary areas and extension into unrelated areas) Chair Lydia Gobena of Fross Zelnick Lehrman & Zissu, PC discussed the advantages and disadvantages: "If you don't expand well and tell the story right, you're not going to reap the financial rewards."
Daniel Luggen of Zermatt Tourism described the challenges of protecting a regional brand that has an international reputation: "We have to think about brand and brand protection. It's not been an easy journey." For example, Zermatt discovered that a company was selling Matterhorn-branded cigarettes in the Caribbean
Laurence Morel-Chevillet of BULGARI S.p.A said brand expansion is often driven by customers' demands: "If you do not follow your clients' wishes, you will not go very far!" For BULGARI, it was a natural development to expand from jewellery to watches. "It took some years to put into the company the know-how, patents and so on. The company also acquired other companies that manufactured watches and now has a huge production plant in Switzerland." Other expansions for BULGARI have included hotels, accessories, perfumes and cosmetics, the latter of which was not successful. "The effort was too high in comparison to the benefits," said Laurence.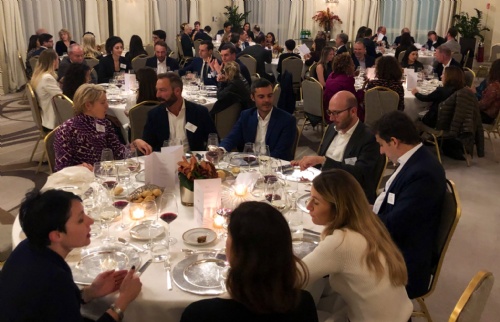 Dinner on Thursday evening
Julia Holden of Trevisan & Cuonzo asked: what is luxury and why do we want it? Historically and sociologically, luxury has always been important, she said, and labels are important for people to find their place in society, but she added: "In different societies, there's a different priority in what people look for in luxury." Is it about being different, seeking quality or showing monetary value? "It's a multi-faceted topic," said Julia.
The panel addressed questions including: What steps do you take when considering a brand expansion across different product or service categories? How do you approach trade mark clearance and use requirements? To what extent can you protect geographical terms? ow do you balance staying true to your company's legacy while at the same time moving forward in other categories? How do you ensure quality when working with partners? How to manage client costs when expanding across numerous categories? And what lessons have been learned from brand expansions?
"If you do it well, you can really create consumer loyalty and brand loyalty," concluded Lydia.
Recent and pending EU cases
In the event's final session, a panel of legal experts discussed recent and pending trade mark, design and copyright cases in the EU. Roland Mallinson of Taylor Wessing said the recent judgment in the AMS Neve v Heritage Audio case regarding jurisdiction "is going to be an important decision for luxury brand owners going forward." He added: "It clarifies emphatically that we can sue under a EUTM in the country where the website is targeted. That will be useful for brand owners."
Arthur Artinian of K&L Gates LLP summarised 15 recent decisions that affect luxury goods companies, noting that they provide good news regarding marks with combinations of elements (such as shape and colour) and for those in new categories, such as position marks, but bad news for luxury brands to obtain registration and for providing acquired distinctiveness EU-wide. Among the cases he discussed were:
Louboutin: Arthur said the positive news from this case is that colour/shape combination marks should not meet objections: "Luxury brand owners should continue to refer to this case when protecting their brands."
Textilis: this case found that 2D prints and textiles are not subject to the shape exclusion under Article 7(i)(e). "If you have marks like this, you're in good shape," said Arthur.
Rubik's Brand: This General Court decision invalidated the Rubik's Cube trade mark on the basis that elements of the design were necessary to obtain the technical result. It is likely to be appealed to the CJEU.
Birkenstock: A simple geometric pattern was devoid of distinctive character. "Brand owners have to take a new look at these kinds of issues as traditional 3D marks are not working," said Arthur.
Red Bull: This case on the blue/silver colour combination confirmed that, if seeking to register colours, you need to be very precise. You cannot claim a monopoly in the combination of the colours for a plurality of reproductions.
KitKat: The lesson of this decision, in which the CJEU said evidence of acquired distinctiveness is required in all 28 EU Member States unless there are proximities between states, is "Does it make more sense to go down the national route?" said Arthur. In two other notable decisions (Supermac's v McDonald's, EUIPO Board of Appeal and Adidas v EUIPO, General Court) it was found that there was insufficient evidence of use.
Topics to watch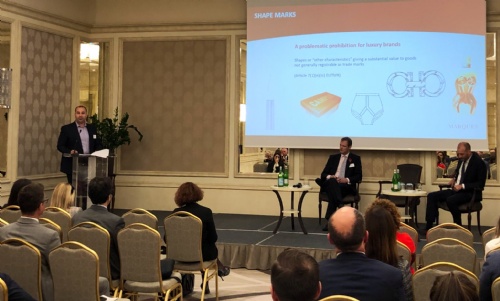 Arthur provided examples of position marks that have been accepted and refused, concluding that the trend is that simple signs can be protected if placed in a specific position. "From a brand owner's perspective, this is an area to watch." Combinations of shapes and colours or distinctive motifs are also likely to be registrable, as are photos of unbranded products.
Bad faith is a developing area, following the Kreativni Dogadaji d.o.o.o v Hasbro decision from the EUIPO Board of Appeal and the recent Advocate General's Opinion in Sky v SkyKick. "If the Opinion goes forward, then EUTM registrations with no intention to use or very general specifications of goods are vulnerable to attack for bad faith or lack of precision," said Arthur.
Designs and copyright
Turning to designs, he said that they are powerful and can interact with trade mark rights, but disclosure can be a challenge for luxury and fashion brands. The recent Porsche v EUIPO decision from the General Court suggests that just reinventing an iconic design is not enough to get design protection.
Interesting cases on the interaction between trade marks and designs include Chanel v EUIPO, BMB v Ferrero, East Sheen Industrial v Rubik's Brand and Red Bull v Voltino.
Finally, Jesse Hofhuis of Hofhuis Alkema Groen discussed the Cofemel v G-Star copyright case, saying "it will create a revolution in the EU for protecting product design and other applied arts". He explained that it confirmed that there is the same threshold for copyright protection throughout the EU, and it is possibly a low threshold.
The Symposium was wrapped up by MARQUES Chair Susie Harris and concluded with lunch.
Posted by: Blog Administrator @ 14.35
Tags:
Luxury Brands
,
Milan
,
Cofemel
,
SkyKick
,
AMS Neve
,
KitKat
,
Red Bull
,
Louboutin
,
Textilis
,
Rubik
,



Sharing on Social Media? Use the link below...
Perm-A-Link:
https://www.marques.org/blogs/class46?XID=BHA4806
Reader Comments: 0
Post a Comment
MARQUES does not guarantee the accuracy of the information in this blog. The views are those of the individual contributors and do not necessarily reflect those of MARQUES. Seek professional advice before action on any information included here.
The Class 46 Archive