CLASS 46

Now in its twelfth year, Class 46 is dedicated to European trade mark law and practice. This weblog is written by a team of enthusiasts who want to spread the word and share their thoughts with others.
Who we all are...
FRIDAY, 30 AUGUST 2019
Advisory Committee on Enforcement meeting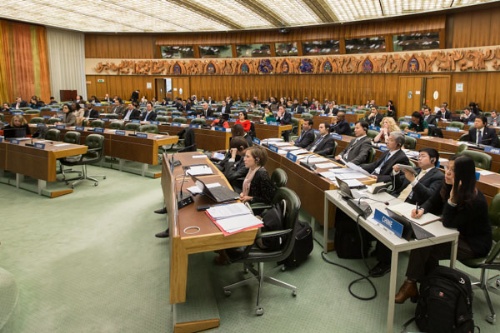 The Advisory Committee on Enforcement (ACE) meets for its Fourteenth Session next week (2 to 4 September).
Established by the WIPO General Assemblies in 2002, the ACE has a mandate to carry out technical assistance and coordination in the field of enforcement.
The ACE's work programme covers topics including awareness-building activities and strategic campaigns to build respect for IP; institutional arrangements concerning IP enforcement policies and regimes; national experiences in respect of WIPO's legislative assistance; and capacity building and training activities.
At the meeting next week, there will be a presentation on the Building Respect for IP (BRIP) Database Project. This project establishes an information-sharing e-platform to minimise the placing of adverts on IP-infringing websites. The database aggregates list of websites suspected of infringing copyright. Find out more about the database in WIPO's announcement, which is available to download on the MARQUES ACPT Team page.
More information about next week's meeting is available here. Documents available to download include:
Recent Activities of WIPO in the field of Building Respect for IP
Awareness-building activities and strategic campaigns
New Technologies in IP Enforcement
Study on IP Enforcement Measures
Initiatives to Prevent Paid Advertising on Copyright Web Sites
Mongolia's Experience with Legislative Assistance Provided by WIPO
MARQUES supports the work of the ACE and is pleased to share this information with members. To find out more about the work of the Committee and new developments in building respect for IP, and to sign up for the electronic newsletter, visit this page on WIPO's website.
Posted by: Blog Administrator @ 08.58
Tags:
ACE
,
WIPO
,
BRIP
,



Sharing on Social Media? Use the link below...
Perm-A-Link:
https://www.marques.org/blogs/class46?XID=BHA4774
Reader Comments: 0
Post a Comment
MARQUES does not guarantee the accuracy of the information in this blog. The views are those of the individual contributors and do not necessarily reflect those of MARQUES. Seek professional advice before action on any information included here.
The Class 46 Archive