CLASS 46

Now in its twelfth year, Class 46 is dedicated to European trade mark law and practice. This weblog is written by a team of enthusiasts who want to spread the word and share their thoughts with others.
Who we all are...
TUESDAY, 16 JULY 2019
Tips from the MARQUES Forum at CTF 2019
Earlier this month, MARQUES hosted a Forum at the 11th China Trademark Festival. Class 46 is pleased to publish an English translation of an article in the CTA Daily Report: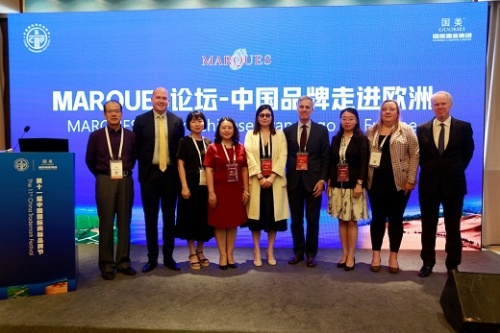 On the morning of 7 July 2019, during the 11th China Trademark Festival, MARQUES held a forum "Chinese Brands Going to Europe" in conjunction with China Trademark Association (CTA). This is the third consecutive year that MARQUES and CTA have held a forum at the China Trademark Festival.
The Forum was moderated by Alessandra Romeo, MARQUES External Relations Officer; Lian Yunze, Partner of Jadong IP Law Firm and Member of the MARQUES China Team; and Julia Hongbo Zhong, Vice President of Lee and Li – Leaven IPR Agency Ltd. and Chair of the MARQUES China Team. Experts and scholars from non-governmental organisations, enterprises, agencies and relevant government departments in the field of Chinese and foreign trade marks gathered together to provide guidance for brands of Chinese enterprises going to Europe.
Strengthening communication and cooperation
In the opening remarks, WU Dongping, Deputy General Secretary of CTA and Uwe Over, Past Chair of MARQUES and Corporate Vice President of Hekel AG & Co., KGaA, representing non-governmental organisations in the trade mark field between China and Europe, reviewed the exchanges between the two sides in recent years.
By strengthening communication and cooperation, and sending personnel to participate in annual meetings, forums visits and exchanges, the two associations of China and Europe have further established a platform for trade mark and brand exchange, especially in the process of promoting Chinese enterprises to enter the European market, have effectively circumvented the legal risks in the trade mark field encountered in Europe, and have increased the internationalisation level of Chinese enterprises.
Another guest speaker, Gunther Marten, Minister Counsellor and EUIPO IP attaché at the EU Embassy in Beijing, also said that the theme of this year's MARQUES Forum, "Chinese Brands Going to Europe" is in line with the background of the increasing number of Chinese trade mark applications in the EU. He expressed the hope that more and more Chinese enterprises enhance the value and influence of their trade marks in Europe in favour of business development.
Differences between China and Europe
In the first session of the forum, Betty WANG, Deputy Director of Intellectual Property Department of Tencent Technology (Shenzhen) Co., Ltd. and member of the MARQUES China Team and Reinout van Malenstein, Senior Counsel of HFG Law & Intellectual Property (Shanghai), made speeches on the development of Chinese brands going to Europe and the differences between the European and Chinese trade mark legal systems.
Among them, as a company that has been at the forefront of China's brand value ranking for many years, Betty WANG said that Tencent's business currently involves social, gaming, music, film, consulting, payment tools and many other aspects, whose brands are Interlaced in many complex product lines, which brings great difficulty in brand management.
At present, the company has filed 30,000 trade mark registration applications, covering more than 120 countries and regions. In the process of Tencent's trade marks going to Europe, it faces various difficulties, such as many country's databases need to be searched, all classes cannot be covered in the countries based on use, urgent cases cannot be completed on the same day due to the time difference, the number of applications is limited by cost and the high cost of a single case. Today, Tencent's main strategy is to actively use international priorities in overseas trade mark planning, while deeply understanding and carefully following the EU trade mark procedures, and actively using the EU intellectual property customs protection system.
Expanding internationally
In the second session of the forum, three speakers gave speeches one after another. Uwe Over took the example of Henkel Group as a support for Chinese enterprises to go to Europe. He said that for Chinese enterprises, the ideal overseas trade mark management structure should include three levels: (1) to possess a trade mark, (2) to protect the trade mark, and (3) to make good use of the trade mark.
In the process of going to Europe, we must do a good job in trade mark planning and control costs to build a reasonable trade mark protection price structure. Before expanding the existing trade mark portfolio, we must also do a risk assessment, consider the market as a whole, and do market monitoring.
In her speech, Mirjam de Werd, Vice-Chair of the MARQUES China Team and trade mark attorney at the Dutch firm Abcor, provided guidance on protecting and managing Chinese brands abroad. She believes that the first thing to do is to search and monitor the trade marks that are allegedly infringed or infringed, and then to protect rights through three procedures: administrative, judicial and Customs enforcement procedures. She specifically explained the relevant ways and methods of rights protection, and briefly discussed the impact of Brexit on the protection of trade marks in Europe.
Trade mark litigation in China
Finally, Zhang Xiaojin, Chief-Judge in the Second Trial Division and Member of the Adjudicatory Committee in Beijing Intellectual Property Court, made a speech entitled "Practice on Rights Protection of Foreign Trade Mark Owners in China". She exchanged views with Chinese and foreign guests on four aspects, including the relevant introduction to trade mark litigation in China, the practice on rights protection in trade mark administrative cases, the practice on rights protection in trade mark civil cases, and the equal protection of the legitimate rights and interests of trade mark parties.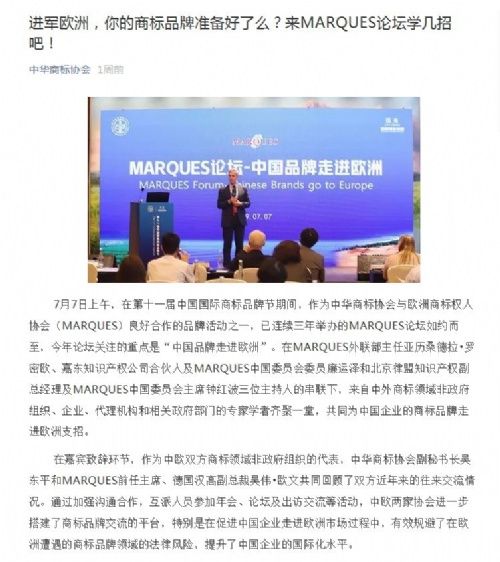 During the questioning and post-conference exchanges in the two sessions of the Forum, the participants and the Chinese and foreign guests had extensive and energetic discussions. Participants said that, with China's continuing economic and social development, Chinese enterprises are facing more trade mark challenges in Europe.
Using a platform such as the MARQUES Forum to strengthen China-EU cooperation is conducive for Chinese brands to raise awareness of overseas rights protection, to establish the pillars of brand portfolio management and internationalisation and to provide guiding principles for the management and operation of trade marks at home and abroad.
This translation of an article in the CTA Daily Report was prepared by Julia Hongbo Zhong and Lian Yunze of the MARQUES China team. The photos are by CTA photographers.
CTA will be hosting a workshop at the MARQUES Annual Conference in Dublin on combatting malicious registrations in China. For more details, see the online programme.
Posted by: Blog Administrator @ 11.15
Tags:
CTF
,
CTA
,
China
,
Zhang Xiaojin
,



Sharing on Social Media? Use the link below...
Perm-A-Link:
https://www.marques.org/blogs/class46?XID=BHA4763
Reader Comments: 0
Post a Comment
MARQUES does not guarantee the accuracy of the information in this blog. The views are those of the individual contributors and do not necessarily reflect those of MARQUES. Seek professional advice before action on any information included here.
The Class 46 Archive