CLASS 46

Now in its twelfth year, Class 46 is dedicated to European trade mark law and practice. This weblog is written by a team of enthusiasts who want to spread the word and share their thoughts with others.
Who we all are...
THURSDAY, 5 JUNE 2008
Savile Row Bespoke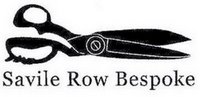 designweek reports today that Savile Row Bespoke (SRB), the consortium of tailoring businesses on the famous London street, is trademarking its logo 'to extend its use as a mark of authenticity'.

The logo is in use by tailers residing in Savile Row, Conduit Street, Old or New Burlington Street and Sackville Street in London, who want to underscore with the logo that they follow 'certain rules of suit manufacture' (the highest standards might be a more accurate wording). SRB's tailor-made website gives a wonderful insight in the longstanding history of Savile Row and background information on the outstanding reputation of its tailors and their art of suit manufacture.

The SRB tailors are clearly into the fashionable world of marketing these days and have registered the shears logo as a trade mark in the UK and the EC. A 'fantastic brand' indeed: 'Bespoke tailoring is the Haute Couture of men's style and Savile Row has dressed every icon of male elegance from Nelson, Valentino and Astaire to Sinatra, Jagger and Jude Law not to mention crowned heads, statesmen and captains of industry that the Row is far too discreet to name.' (source SRB's website).

Good to know by the way that Savile Row tailors use a jargon of their own which might be good food for further trade mark registrations: Bunce, Chuck a dummy, Whipping the cat, Hip stay, Kipper, Pink a Job and not to forget the Clapham Injunction, sorry the Clapham Junction. I'd better go kicking!
Posted by: Gino Van Roeyen @ 11.11
Tags:
Savile Row Besproke
,
Trade Mark
,



Sharing on Social Media? Use the link below...
Perm-A-Link:
https://www.marques.org/blogs/class46?XID=BHA474
Reader Comments: 0
Post a Comment
MARQUES does not guarantee the accuracy of the information in this blog. The views are those of the individual contributors and do not necessarily reflect those of MARQUES. Seek professional advice before action on any information included here.
The Class 46 Archive