CLASS 46

Now in its twelfth year, Class 46 is dedicated to European trade mark law and practice. This weblog is written by a team of enthusiasts who want to spread the word and share their thoughts with others.
Who we all are...
TUESDAY, 11 DECEMBER 2018
Join these TM judges in Amsterdam in January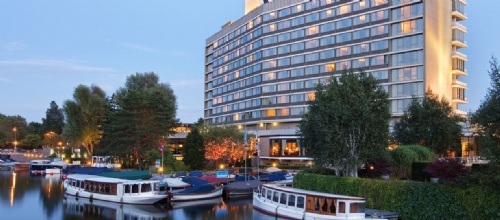 The first MARQUES EU Judges Meeting is taking place on 18 January 2019 at the Hilton Amsterdam (right).
Judges taking part include:
Robert Van Peursem, Advocate General Supreme Court, The Netherlands
Philipp von Kapff, Member of the First Board of Appeal, Member of the Presidium of the Boards of Appeal, EUIPO and Mediator
Ms Octavia Spineanu-Matei, Member of the General Court, Luxembourg
Sven Stürmann, Chairperson of the Second Board of Appeal, EUIPO
Prof. Dr. Joachim Bornkamm, Germany
Mr. Geoffrey Hobbs, QC, One Essex Court, United Kingdom
Judge Eleonora Viegas, Portugal
David Stone, Partner at Allen & Overy and (part-time) Deputy High Court Judge (England & Wales), United Kingdom
Els Herregodts, Court of Appeals Brussels, Belgium
This will be a unique opportunity to hear from the judges deciding the key trade mark and design cases at both national and EU level. There are also other expert speakers, including trade mark lawyers, in-house counsel and a professor. Registration is now open and places are filling up, so book your place now!
More information:
Tags:
Judges Meeting
,
Amsterdam
,
,
Perm-A-Link:
https://www.marques.org/blogs/class46?XID=BHA4696
MARQUES does not guarantee the accuracy of the information in this blog. The views are those of the individual contributors and do not necessarily reflect those of MARQUES. Seek professional advice before action on any information included here.
The Class 46 Archive